Does your relationship look like this at times?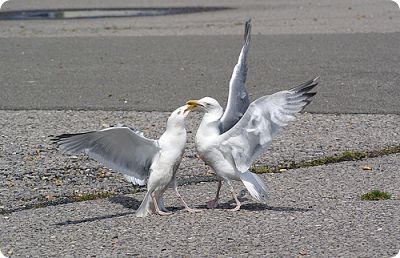 Photo courtesy of antean
Have you ever felt like you were locked into any of the following behaviors? If so, you might be in danger of destroying the relationship that you once prized above all others.
The power struggle……….where two people want to be in control of the relationship instead of being true partners. This leads to conflict that is very difficult to resolve.
Great expectations…..are you clear about the expectations that you have for your relationship? Did you talk about your expectations with your significant other in the beginning of your time together or did you make assumptions? I knew of one couple who hadn't clarified whether they were going to be monogamous or not…one assumed they were going to be and the other assumed they weren't going to be….it's a big deal.
Mind reading……I hate to be the one to tell you but you really aren't as good at reading minds as you think you are. You don't know how a person feels or what they are thinking unless you ask or they tell you on their own. As children, we make interpretations of the events around us and sometimes we are right. This leads us to think that we are quite intuitive about the reactions that people will give us……we make assumptions and role play situations in our minds until we convince ourselves that it will happen exactly that way.
Opposing values…..If your spouse's leading value is freedom and yours is security that can lead to a lot of conflict. He wants to fly off to Australia on a whim and you want to use the money to put a down payment on a house near your family. Have you clarified your values?
Time travelling…..if you continually bring up events that happened in the past, you are, in essence, travelling in time, living in the past.
What can you do about letting go of the relationship killers?
Decide that you are partners and work together, be a team.
Discuss what you want in your relationship, make a plan
Don't assume that you know what the other person is thinking. Ask questions, be specific.
Discover what your values are (I will be talking about this in a future post. Stay tuned!!). See if the values each of have compliment each other or conflict with each other. Find a way to compromise.
Don't dredge up the past. Focus on NOW and the PRESENT.
The following two tabs change content below.
Sherie
I am a Relationship Coach who helps others create happy, healthy, loving relationships…including the relationship they have with themselves…by breaking through those blocks and barriers to success. I use various techniques gathered through training as a Master Practitioner of NLP, timeline, hypnosis and common sense gathered through life experience.