Fear rips the dreams from your sleep and prevents you from going forward in life.  It is the boogey man that steps up and stops you from taking those baby steps.  What can you do about that? Is fear the gatekeeper that you use to keep yourself bound in chains?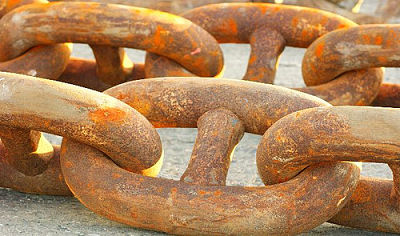 Photo by sarniebill1
What Does Fear Really Mean?
False   (That means NOT true)
Evidence (Is there any, really?)
Appearing (It just looks like that)
Real (Is it?)

 
I am sure that you have seen this acronym before.  Think about it.  False Evidence APPEARING Real.  
We have great imaginations.  People who have fear do it very well, they do it very well and quickly.  They make fantastic pictures in their mind of catastrophes, large and small.
When I was small, I was afraid of monsters under the bed.  I did a brilliant job of imagining them under there, ready to leap out at me and eat me!  In fact, I slept with a light on in my room for a long time!  
I was really, really good at imagining those monsters, what they would look like, what they would sound like.  I could imagine the sound of my bones crunching as they ate me all up!  I had a great imagination, didn't I?? 
Imagination can be your friend
Einstein said that "Imagination is greater than knowledge". Fear is "imagining" or "imaging" or "picturing" a bad outcome. Do you play movies in your mind of negative scenarios?   
What if your ability to create those negative images in your mind is causing your fear?  It is a simple approach and it might be just that simple. 
Why would you do that to yourself….to keep yourself small?  What lies underneath that?  At one time, in the past it is possible that you made a decision that you were not good enough. 
Decision Time
If you were the person who made that original decision, then you are the person who can make another decision, a different one, this time.  When you decide that enough is enough, you can break those chains that bind you. You can step,one foot in front of the other, into the light. 
Time for some SMART Goals
Specific and simple

Measurable and meaningful

All areas of life, as if now

Realistic and responsible

Timed and Toward what you want 
Make a plan.  It's simple really.  Use mind mapping, write them on 3 x5 cards, brainstorm, let your mind run free and see what you come up with. 
Write it down.  Put it in a place where you can see it. Take that incredible imagination that you have and turn it towards creating a great now and a wonderful future. 
When you are done with the plan, step back and visualize the outcome in your mind.  Feel the joy that will be yours when you manifest that goal, make those good feelings bigger and more intense.  Imagine that it is even better than you thought it could be. 
Know that you are good enough, because you are. Follow that path that you are meant to follow. It's all there, waiting for you. You can have those dreams if you really want them.  Yes, you can.  
The following two tabs change content below.
Sherie
I am a Relationship Coach who helps others create happy, healthy, loving relationships…including the relationship they have with themselves…by breaking through those blocks and barriers to success. I use various techniques gathered through training as a Master Practitioner of NLP, timeline, hypnosis and common sense gathered through life experience.