Have you ever thought that lack of forgiveness could be holding you back from achieving the life and relationships that you so dearly want to create in your life? Let's talk . . .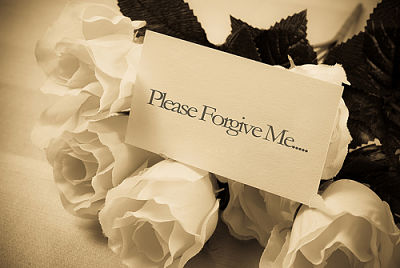 Photo by hang_in_there

A Favorite Forgiveness Quote
"Forgive yourself for your faults and mistakes and move on" Les Brown
It can be harder to forgive yourself for perceived faults and mistakes than it is to forgive others. However, it is necessary to do so.
In order to move forward into that future you want to create, you need to release the guilt. Holding on keeps you stuck, unable to successfully reach your goals and dreams.
Why is it Important to Forgive Yourself First?
When you live your life holding on to ideas that you did something wrong, you punish yourself unnecessarily. A mentor of mine once told me that guilt over an occurrence in the past only punishes.
It does not resolve the why of it happening. It does not protect or keep the person safe. What it does do is keep you stuck in pain.
He told me that it was imperative to learn what you could learn from the past situation and leave the emotion of guilt out of the equation.
He was right. When you learn from it, release the guilt, you are free to move forward, towards the life that you deserve to create.
Forgiveness not Forgetting
There is a simple exercise that I can show you that can help you to release the guilt and move towards forgiveness. Note: Simple is not always easy . . .
I would like you to imagine a small event in the past that you feel guilty about, that you still do not forgive yourself for. Please, make it a SMALL event, NOT a major trauma.
Take a deep breath and close your eyes . . . just like that . . .
When you think of that SMALL event that you had in the past, ask yourself these questions:
What did I learn from this experience? (wait a moment for the answer . . . there will be one or more)
What information can I take into my future to prevent this from happening again? Is there any?
Can I think of other ways to protect myself, other resources, other than guilt?
See that younger version of you, in that past, looking up at you, eyes pleading, asking you "Please forgive me".
Then imagine yourself, in that past event that you had, letting go of any guilt or negative emotions, like a string of balloons filled with helium . . . letting them go, drifting off into the great expanse of the universe . . . feel the joy rising in your heart, filling that space that used to be occupied with guilt.
If you would like, you could see the you from now bending down and giving the you from the past a big hug and telling yourself that everything is okay and that you are forgiven.
Forgiveness, a Powerful Gift to Give Yourself
You did the best you could with the resources you had

You did learn from the experience

You can move forward lightly into the future, having released the burden of guilt
Create your life from a point of power in love and see the magic unfold. Once you release that guilt and employ forgiveness in your life, you will see changes that you could never imagine before . . . I promise . . .
The following two tabs change content below.
Sherie
I am a Relationship Coach who helps others create happy, healthy, loving relationships…including the relationship they have with themselves…by breaking through those blocks and barriers to success. I use various techniques gathered through training as a Master Practitioner of NLP, timeline, hypnosis and common sense gathered through life experience.