Does an abundance mindset depend on how much money you have? Or what kind of house you live in?
I don't think so and I hope you don't either. . .
A very dear friend of mine received some shocking news on November 30. The company that he worked for had lost two major contracts and he was being laid off.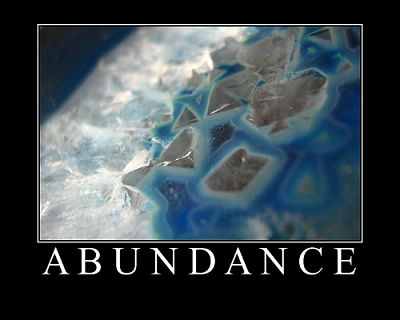 Photo by Luz Adriana Villa A.
What is an Abundance Mentality?
If abundance is not defined by your possessions or the amount of money you have, what is it defined by? It is defined as a feeling, a knowing that there is enough, that you are enough, that you are safe and secure.
Is it easier to feel that way if you have lots of money in the bank, a fabulous house, cars, jewels . . . all the trappings of traditional success? Yes, for some people it is. For others, and perhaps you are one of them, no.
There are people who can have all of their possessions stripped away from them who maintain an abundance thought pattern. They know that no matter what, they are abundant.
What is Your Abundance Dependent On?
YOU
Just YOU. There is a decision that needs to be made, that you will understand that the feeling of being abundant is inside of you, deep inside, ready to be awakened.
At this time of the year, when the stores shout out the sale of the day and emails shout at you to "Buy this, NOW", it is comforting to know that yes, even though you might make these purchases, they do not define you or your level of abundance.
Only you do that. Even if your level of financial success is not where you want it to be, once you acknowledge that you are already abundant, everything else will follow. . . and it won't even matter because you already have that feeling, right there.
An Abundance Mindset During the Holidays
Whether you have the evidence of manifested abundance in the form of x amount of dollars or you have just lost your job, you can have a bountiful, blessed Christmas and Holiday season.
Set a budget and stick to it (don't max out your credit cards!)
Lower your expectations (is it necessary to have enough food for 50 people when there are only 5 of you?)
Remember, it's the thought that counts (even if you give coupons or shop at the dollar store)
Surround yourself with the people you love and keep the traditions that are important (sing carols, hang your decorations, bake cookies)
Be creative (with your gift ideas or how you celebrate)
Remember those less fortunate than you (there always is someone less fortunate than you. . . we live in a land of plenty, even if we can't see it. . . think running water. . .)
Step out of the negative; surround yourself with beauty and music
Accept invitations if your friends or family extend them, isolation doesn't help at all
Laugh
Nourish your spiritual side, meditate, pray, have a spiritual practice to comfort you
My friend will be okay because he does have an abundance mindset. No matter what the short term results, he knows that he is the creator of his future and that all will be well because it already is.
How about you? Give yourself the gift of knowing that no matter what your circumstance, you will be okay and abundance is yours for the asking.
"Drive your own life. . .you deserve to, don't you?" Sherie Venner
The following two tabs change content below.
Sherie
I am a Relationship Coach who helps others create happy, healthy, loving relationships…including the relationship they have with themselves…by breaking through those blocks and barriers to success. I use various techniques gathered through training as a Master Practitioner of NLP, timeline, hypnosis and common sense gathered through life experience.