Hey, haven't I said before that "mind reading", in NLP terms, as applied to relationships is not a good thing?? Along comes Sandi Krakowski, with outrageous pink hair and proves that there is an exception to that rule!! I received my personal paperback copy in the mail last week and have read it twice since!! It's called "Read Their Mind" and I am thrilled with it!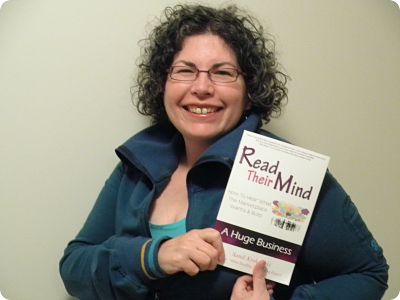 Yes, this is a business book. Surprisingly, though, it is a book about relationships as well. The premise of the book is that you can "read their mind" and that is what I found so fascinating about it. We talk about "mind reading" as NLP practitioners and I really enjoyed how Sandi used the metaphor of "Read Their Mind" to explain the importance of listening, knowing your client, and solving problems!
My Favorite Chapters
These are not in the same order that they are in the book, just in the order I want to talk about them! LOL
The Good, the Bad and the Awesome of Listening

Ask, Listen and Speak Their Language

Daily and Weekly Action to Take
The Good, the Bad and the Awesome of Listening
In this chapter, Sandi clearly illustrates that you need to know the pressing problem. This is important in every relationship that presents with a problem or issue. You need to know what it is in order to solve it.
Define the problem. Sandi also makes it clear how she goes about doing this through a series of questioning processes. She says "Ask questions and listen". Great advice in any relationship, don't you think?
Ask, Listen and Speak Their Language
You know how important it is to be understood, right? If someone is speaking above your head, you won't really catch their drift. Sandi breaks down the business component of "speaking their language" through a series of techniques. She shows how to analyse the written word in order to ensure that it is appropriate for a client base.
Have you ever been on the receiving end of a conversation that you felt completely baffled about? In my previous post, I discussed some aspects of building rapport through language.:D
Daily and Weekly Action to Take
In my opinion, this is a very important part of the book. Having a good action plan is essential! That applies to both business and relationship. If you have a plan and don't implement it, you are sitting becalmed in the water. If you have a plan and do implement it, you are sailing.
I like that Sandi no where implies that it will be easy. Simple, yes, easy, maybe….it all depends…doesn't it?
Should you read this book?
This is an easy read and it is a thought provoking read. It is a book that you will need to read more than once to catch all of the nuances and the meaning between the lines. I think of Sandi's book as a self development book AND a business book. If you want to use it strictly for business, you will definitely find a LOT of great business ideas and actions to implement in it. You might find yourself changing, though……just like that….
Why should you read this book? Sandi's principles can be applied to relationships across the board and……..she has very generously allowed her book to be FREE!
Here, click this link to get her book FOR FREE! so that you, too, can take advantage of the knowledge that she has provided. Be warned, though…..Sandi is a woman of faith and is not afraid to show it….that is a big part of her book and I admire her honesty and integrity.
Enjoy! I am going back and reading it for a third time, I know that there is more that I can glean from it.
The following two tabs change content below.
Sherie
I am a Relationship Coach who helps others create happy, healthy, loving relationships…including the relationship they have with themselves…by breaking through those blocks and barriers to success. I use various techniques gathered through training as a Master Practitioner of NLP, timeline, hypnosis and common sense gathered through life experience.