Are you feeling overwhelmed by an unfinished project or just the day to day tasks that you have to accomplish? Have you ever heard the expression "Bloom where you are planted?" I am sure that you have…. It's an expression that I like a lot and it applies to a stressful project that we had to face this summer. .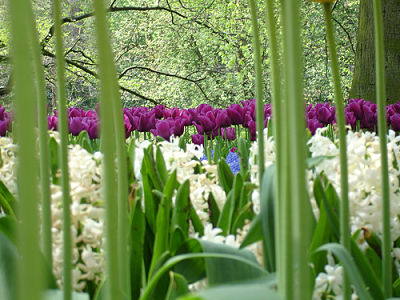 Photo by borkur.net
When my family had the opportunity to paint our deck, even though we used visualization and motivation strategies to accomplish it, there were definitely moments of stress.
It's a big job!!  Our deck looked like it hadn't been stained in quite a few years and since we had moved in, we hadn't had the opportunity or motivation to do it! What a mess!  We had never done anything like it before and none of us knew exactly what to do.
It was a very wet summer here in Edmonton and when we made the decision to forge ahead and paint the deck, we were blessed with 10 days of hot, dry weather, right at the beginning of September.
There are many ways that doing a job like that can be approached.  You can make it into a chore, a drudgery that makes everyone around you feel bad or you can approach it like a game, and put joy into it. How you approach it, can add to the value in your relationships or hinder them.. 
Here is what I learned…..
Plan!  Know the tools you will need and have them ready when you need them.  There was a lot of research on the internet that went on and questioning of the handymen in our family.
Visualize your success.  When you picture the end result, you have a goal that you can confidently move towards.
Co-operation is necessary!  Team work all the way!!  (especially when it comes to a big project).
Ask for help when you don't know what to do (thanks to the very lovely people who shared their knowledge at the Benjamin Moore paint store in Sherwood Park!).
Have fun! Laugh when things go wrong ….that's what we did when I spilled HALF a can of very expensive stain on our unpainted picnic table……..(which has now lovingly been stained to match the deck!).  Fortunately, I missed getting it on the dog!
Take time to rest (frequent breaks with refreshments on a hot day are a bonus!).
Enjoy the weather when it's good (sunshine is good for the heart and the soul).
And finally, last but not least….
Celebrate your success.  Acknowledge the hard work of those who made it possible, for the long hours in the sun scraping the flecks of peeling paint off of the floorboards of the deck. (We celebrated with music, good food and an episode of our favourite television show, Dr. Who!).
Each of us have projects and tasks that we are doing, whether it is home or self improvement, going to school, learning new skills or building a business. It doesn't even need to be a big task, it can be something as simple as putting your laundry away or doing the dishes.  
When you are feeling overwhelmed, trying out one or two of these small strategies can help you bloom where you are planted…..the world will seem a much better place!  In the process, you will find that the relationship you have with yourself, as well as with others, will be strengthened.
The following two tabs change content below.
Sherie
I am a Relationship Coach who helps others create happy, healthy, loving relationships…including the relationship they have with themselves…by breaking through those blocks and barriers to success. I use various techniques gathered through training as a Master Practitioner of NLP, timeline, hypnosis and common sense gathered through life experience.