Are you in a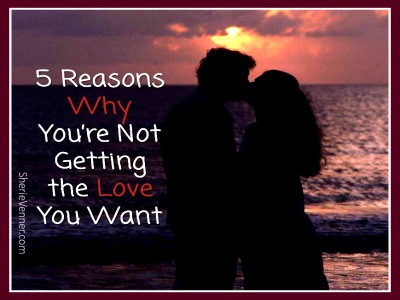 relationship where you aren't getting the love you want? Or are you looking for a relationship and don't have the love you want?
Have you noticed that for some people, they have no problems getting the love they want…and yet, for others, it is a constant battle.
Why is Getting the Love You Want Such a Tricky Thing?
So the question is: Is it really a tricky thing or does you believing that…make it so?  Let's see…
Here's why you might be having trouble finding the love you want.
You say to yourself "All men/women are scum/hurt me/are in it for the money/sex." This is called a universal belief. You have applied it to ALL men/women…and it might be different than these words…but similar in tone…you'll know it if you say it, won't you?
You keep picking the "same" person. You know what I mean. You have been through the "stars in your eyes" beginning… and now…three months or a year into the relationship, you wake up one morning with the realization that you've been here before and done that.
You don't believe that it is even possible to succeed at finding and getting the love you want. You've been through the wringer one too many times.
You don't really know what your values are. When I talk about values, I am talking about freedom, fun, family, love, money, happiness…and many more possibilities. If you don't know your values yet, go here…now…
You don't believe that you even deserve to have the love you want and desire. Your self-esteem has taken a beating in previous relationships that were possibly abusive, emotionally or physically.
Can You Really Find the Love You Want?
Absolutely! And it starts here:
If you have a universal belief about men/women, that needs to change…now…when you say "ALL"…I want you to ask yourself this…"Is that true?"…is it "ALL men/women"…can you think of ANY men/women that this is not true for? Just think about it…that's right…
Take a look at the characteristics of the partners that you have chosen in the past. Take a pen and paper (or pencil if you prefer!) and list previous relationships that have failed. Write down the characteristics of the partner that you didn't like…and see if they have anything in common.
Look around for examples of happy couples and relationships that work. Make sure that you start to notice all of those in your life…and there will be many…and if it is possible for them…then it really is possible for you…even if it takes time.
Find out what your values are. Go here. When you are in partnership with someone who has opposing values, it can be so difficult to make it work.
Believe that you deserve to have the love you want…and that is not always an easy thing. Simple. Yes. Imagine yourself as a small baby, newly born…being held in strong arms…and look at that tiny, beautiful face…does that baby deserve to be loved? That's right…and nothing has changed…because you do still deserve love…no matter what…work on that self-esteem and get that lifted up.
So, if you are in a relationship and are not getting the love you want, take the temperature of the relationship. See if any of these things apply to you…and if these small changes in perspective can help you make that change. If you aren't in a relationship, then these steps will help you go back to the drawing board and make a fresh start.
Start where you are…take small steps and they add up…so if you aren't getting the love you want right now…change these small things…and one day…when you're not even looking for it…you just might be very surprised…I know that I was…
"Drive your own life…you deserve to, don't you?"  Sherie Venner 
The following two tabs change content below.
Sherie
I am a Relationship Coach who helps others create happy, healthy, loving relationships…including the relationship they have with themselves…by breaking through those blocks and barriers to success. I use various techniques gathered through training as a Master Practitioner of NLP, timeline, hypnosis and common sense gathered through life experience.