You get up in the morning. You go about your daily work.
You live. All of that requires a quiet courage, especially in unsure times…times where there is more chaos and uncertainty than ever before.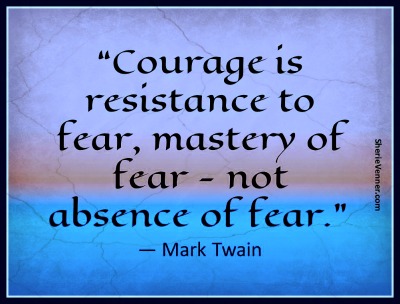 "Courage is resistance to fear, mastery of fear – not absence of fear."― Mark Twain
We often think of courage in terms of brave acts…or acts of extreme heroism…and those are wonderful acts…but what about the quiet courage of those who fight with depression…or anxiety…or struggle with addictions…those people who keep going…even if they aren't sure of the direction they are going in?
Here are some of my favorite courage quotes for the quietly courageous…and you know who you are…don't you?
"Courage doesn't always roar. Sometimes courage is the quiet voice at the end of the day saying, "I will try again tomorrow." Mary Anne Radmacher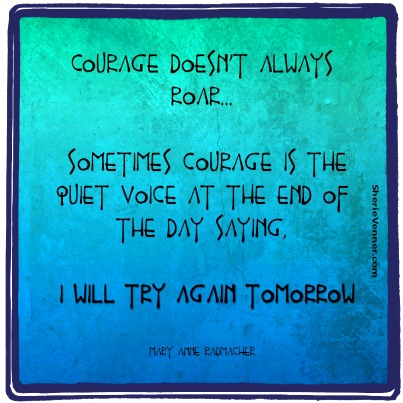 "The most courageous act is still to think for yourself. Aloud." ― Coco Chanel
It takes courage to:
Move forward after a loss…a divorce, a death, a breakup, a job loss, a financial loss….
Move forward when there has been a rejection
Move forward when a decision has turned out to be the wrong one
Activating Courage When You are Afraid
"It takes courage to grow up and become who you really are."― E.E. Cummings

Remember that fear isn't real. It is a projection of the worst case scenario. It can seem real because our imaginations are powerful. We can paint pictures in our minds with our words. We make everything feel more real when we FEEL it.
Because we can do this, we can also use the same process to turn it around. We can imagine a better outcome. We can paint a prettier picture of the future…we can make it more real by infusing that picture with good emotions…like hope…joy….being happy…feeling success…right there.
And when we do that, we can feel courage…welling up…making a new future a possibility…that we can move toward…because when we feel it…when we reach down deep inside…we can create that ….
And in the famous quote of Sir Winston Churchill: "Success is not final, failure is not fatal: it is the courage to continue that counts."
"Freedom lies in being bold." ― Robert Frost
So, activate your courage…and recognize that it took courage to get you where you are now…and you can move forward because you always were brave…weren't you?
In closing, this courage quote from Nora Ephron is one of my very favorites because it puts personal responsibility into play…
"Above all, be the heroine of your life, not the victim."― Nora Ephron

And this could also read be the "hero" of your life…couldn't it? So do that…be the hero or heroine of your own life…just because you can…and see that everything shifts…
"Drive your own life…you deserve to, don't you?" Sherie Venner
Image courtesy of BJWOK /  freedigitalphotos.net
The following two tabs change content below.
Sherie
I am a Relationship Coach who helps others create happy, healthy, loving relationships…including the relationship they have with themselves…by breaking through those blocks and barriers to success. I use various techniques gathered through training as a Master Practitioner of NLP, timeline, hypnosis and common sense gathered through life experience.