Did you feel that you needed to be perfect growing up? Perfectionist tendencies are most often started when people are children. It can have its origins in the school system, in peer groups, or be handed down from parents through expectations.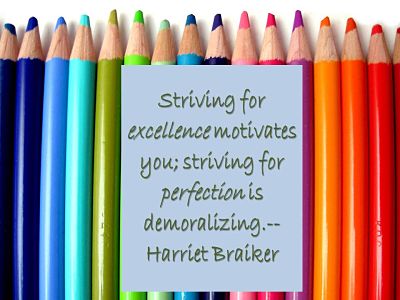 Recently, on Grey's Anatomy, there was a very brilliant scene. Mark Sloan, a perfectionist plastic surgeon did not want to allow Dr. Richard Webber to transplant a less than perfect liver. Dr. Webber insisted that the liver was good. This is what he said to Mark Sloan, the acting chief, that had such a profound effect and allowed the lifesaving surgery to continue.
"Well, I don't need pretty and I don't need perfect…what I need is for this to work" Richard Webber (Grey's Anatomy).
This scene had impact and as a recovering perfectionist myself, it really made a lot of sense.
Signs that You are a Perfectionist
You routinely take on more than you can do

You have unrealistic expectations of what you can do

You have unrealistic time frames in which you want to accomplish what you want to do

You never think that what you do is good enough

You have higher standards of behavior or achievements for yourself than you do for others

You are always trying to prove yourself and have a hard time relaxing

You beat yourself up, usually verbally or through other self-destructive behaviors (such as gambling, drinking, overeating, overspending, sexual addictions, or other addictions) when you perceive yourself as having failed at your task
Just Say No to Perfectionist Tendencies
That sounds simple and it isn't. The person who is a practicing perfectionist has a hard time saying no. They can't say no to requests that are not in their best interests. They can't say no to themselves when they set unrealistic expectations.
Let's talk about Sally. She works full time, has a family to care for on top of work responsibilities. She has been up with her teething infant for two nights in a row. Just as she is about to sink into her couch and have a light nap, she gets a phone call asking her to bake 6 dozen cupcakes for her son's kindergarten bake sale.
If Sally is a perfectionist, she will immediately think "Yes, I can do that!" in spite of her growing exhaustion. Her mind will race at break neck speed, frantically trying to find a way to manage it. If Sally is a realist, she will say "I really wish I could but no…not this time around…maybe next time." Or if she really wanted to contribute to the bake sale, she could offer to make a donation of cash, in lieu of the cupcakes, or come up with another arrangement that worked for her.
Self-care is not a priority for people who have perfectionist tendencies. They look after everyone else's needs first. The problem here is that no one looks after you, do they? If you harbor an idea in the back of your mind that someone else will do it for you, it doesn't work that way…
Is Compulsion a Part of Being a Perfectionist?
It might be…if you feel that you MUST be perfect, if you feel that you have NO choice, then those are signs that it is a compulsion. In that case, just saying no will be very difficult for you. In that case, there are NLP techniques that can help…one of those is the compulsion blowout.
The compulsion blowout technique can be done by yourself; however, because it involves intensifying the compulsion first, it might be better to have this done with an NLP practitioner as your guide. The compulsion blowout can be done quickly, if you do it right. : D
Letting the Idea of Being a Perfectionist Go
Surrender is an important part for the recovering perfectionist to embrace. For those of you who aren't compelled to be a perfectionist, here is a simple technique.
Visualize an event in the future, a small event where in the past you would have played the part of a perfectionist. Imagine yourself at that time in the future…see yourself in that event…hear yourself saying no…feel good about saying no…feel that power…deep inside…
Imagine a world where you are important…where you can set time aside to take care of yourself…where you allow yourself to take breaks…let go of any resistance and struggle…yes, you can…just let it go…like a soft breeze that just passes through…feel that love that you have for yourself and let that kindness flow over you…embrace that calm…and just be…and realize that you are enough…just the way you are…
All you can do is enough…isn't it? Yes…strive for excellence…let the idea of perfection go. Once you see that there is a law of diminishing returns in being a perfectionist, that is isn't doing you any good, it gets easier to just let it go…
"Drive your own life…you deserve to, don't you?" Sherie Venner
The following two tabs change content below.
Sherie
I am a Relationship Coach who helps others create happy, healthy, loving relationships…including the relationship they have with themselves…by breaking through those blocks and barriers to success. I use various techniques gathered through training as a Master Practitioner of NLP, timeline, hypnosis and common sense gathered through life experience.