I never had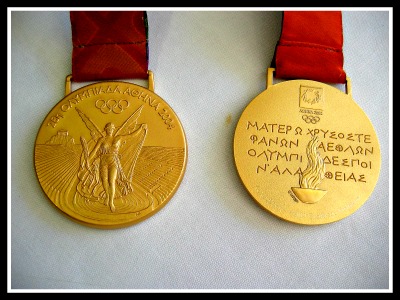 the drive or the determination to be an Olympic athlete. I didn't have much natural ability, either. I was one of those kids who could trip over their own feet walking across a smoothly carpeted living room. I did, however, get a black belt in Tae Kwon Do when I was 50 years old. I am very proud of that.
Getting that black belt required me to go outside of my comfort zone. I needed to believe that it was possible for ME to get a black belt. I needed to keep going even when it got tough…and it got tough…a broken toe with sprained ligaments with a board breaking gone wrong…a shoulder that got kicked by a fellow student…
Are Olympic Athletes Just Natural Athletes or is it Something Else?
There are certain characteristics that make an Olympic athlete. For many, there is natural ability…but let's talk about the most important aspects.
This is what I see when I watch Olympic athletes perform:
Desire. A massive desire to play their sport. Yes, they want to win, who doesn't? Yet…that isn't what I see when I watch these people who train, train, and train again…I see passion and heart.
Determination. I have been to very many Tae Kwon Do competitions (and other sports events, as well) where you can see the determination written on the faces of the competitors. The passion is written across their faces and you can hear it in their voices.
Discipline. They have an amazing amount of discipline. That is the ability to keep going, even though their body might be screaming out in pain. No. I am not suggesting that you do that…but I have been there…and I know many people who kept going…even when it wasn't easy…
Life is Like the Olympics
So, no matter where you are in life, you have your own challenges. We all do. When we look at someone else's life, we might not see those challenges. We see the outside that they present. Yet, we can never know what goes on "behind closed doors".
There is a quote that made the rounds on Facebook a while ago and it went something like this "Don't compare your behind the scenes life with someone's highlight reel". Yet, don't we do that? And…how does that make you feel?
In order to succeed, we need to find that desire and accept that we have it. We need the determination to make our dreams a reality and the discipline to follow through when things get tough…because they will get tough…it's just a fact of life.
So, in a way, just by being here on this planet, we are like those wonderful examples of human athletic prowess, the Olympic athletes who dazzle us with their skills. Remember, they worked very hard to get where they got to. It wasn't given to them on a silver platter…and just because it might look easy when they are doing it…it's not.
You've put in a lot of hard work to get here…look at all those things that you needed to learn…like learning to walk…how amazing was that? Give yourself credit…and be fully in this Olympics that we call life…just because you can.
"Drive your own life…you deserve to, don't you?" Sherie Venner
The following two tabs change content below.
Sherie
I am a Relationship Coach who helps others create happy, healthy, loving relationships…including the relationship they have with themselves…by breaking through those blocks and barriers to success. I use various techniques gathered through training as a Master Practitioner of NLP, timeline, hypnosis and common sense gathered through life experience.