The holidays are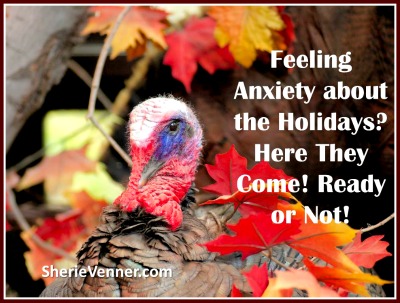 just around the corner…and that means family gatherings…and for some of us…anxiety…and stress…
I really am grateful that we as a society have set up holidays as the time to gather with our family and friends…and be grateful for all that we have.
Are You More Anxious and Stressed at the Holidays?
If you are more stressed or feeling anxiety, then there is the possibility that you might be struggling with perfectionism.
If you have an ideal picture of what the holidays are "supposed" to look like…then I would ask you this…"According to who?".
Did you decide that there was the need for a 12 course dinner, complete with a beautifully decorated house, well behaving children and family members…and the best china and crystal laid out and perfectly polished?
Or was this a decision that someone else made…for you…a long time ago?
When we first moved into our house, after many years of living in a teeny, tiny condo, packed full of stuff…there was a sigh of relief. We knew that we would be able to easily fit the 20 to 25 people that would be gathered for our family celebrations.
So, it was a huge surprise to me to find out that it wasn't the problem…the space that we had to hold the family dinner was wonderful…and yet…I was still overwhelmed and stressed.
Because now that I had that space, I had different expectations of myself…I had a picture in my mind of what that perfect family celebration would look like…and it was hard to match that up without a LOT of work…do you know what I mean?
When we have a different picture in our mind than the one that is actually in our reality…that difference can cause us to feel a lot of anxiety.
After our first Thanksgiving meal, where I worked for two days to get everything together…by myself…I sat down and cried…because I felt that I had failed.
I didn't get a chance to sit down and enjoy the visit with our family and friends because I was too busy…making sure that it was perfect.
That night, as I was talking to my husband, we brainstormed…we are really good at doing that together…and came up with a new plan…one that works for us.
A New Plan for the Holidays
We sat down and made a map of our kitchen…and thought of different ways that the traffic pattern could go…we brainstormed where we could place the food…where we could move the banquet table that held all the trimmings and the plates and cutlery…
And we made a chore chart. We decided that it didn't work for me to do everything and that everyone would be happier if they could contribute. If they brought food and supper was more of a potluck affair. If everyone helped clean up. And we made a decision to use paper plates.
Now, this plan wouldn't work for everyone. But because no one in our family really cares if we eat on paper plates…it just made the day so much easier. It might not be fancy and live up to the picture that I had in my mind…but what was more important in the long run?
For right now…that is the reality…maybe in the future…I can hire a catering service, complete with fancy plates and cutlery! However, now…when the holidays come around…I am happier…because I have removed the biggest stressor for me.
I didn't stay stuck. I stepped out of that anxiety state and I acknowledged that what I was doing wasn't working. I cried a little.
Then I made new plans…because that is what we do…isn't it? When Plan A isn't working, go to Plan B…if that doesn't work…well, I've heard it said that there are very many more letters in the alphabet. LOL.
What You Can Do to Reduce the Stress and Anxiety
Look at what's not working
Decide what you really want…is it the fancy table and meal or is it fun, peace and serenity with those you love
Make a new plan…one you can live with…that is realistic
Ask for help and accept it…you don't have to do everything…really…
Make sure that you take time for yourself
Breathe
Be grateful…write it down on a post it note and put it where you can see it…often…
How do you find the holidays? Have you made peace with how you handle them? Or do you still have some work to do in overcoming the anxiety and stress, even if it is low level?
"Drive your own life…you deserve to, don't you?" Sherie Venner
The following two tabs change content below.
Sherie
I am a Relationship Coach who helps others create happy, healthy, loving relationships…including the relationship they have with themselves…by breaking through those blocks and barriers to success. I use various techniques gathered through training as a Master Practitioner of NLP, timeline, hypnosis and common sense gathered through life experience.