When the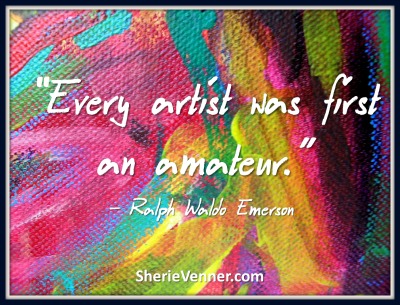 going gets tough, the tough get going…and create new dreams.
No. This is not a reference to the Billy Ocean song. : D
When I was born, there were complications.
I was a breech baby and cesareans weren't common in the hospital where I was born. Instead, the doctor turned me around and using a forceps, pulled me out by the head.
Because of that, I had nerve damage to my face. I had nerve damage to my left leg. The doctor cried. My mother and father were distraught. I was their first child and they expected me to be beautiful and perfect.
So, I smiled crookedly, with only one side of my face responding. I dragged my leg when I was learning to walk. No one told me that I should keep going. I just did.
I was the little girl that my parents found on TOP of the refrigerator, without a chair in sight. There were cupboards, though…: D
Because that is the nature of the human spirit. We keep going…even when the going gets tough…
What Do You Do When the Dream Didn't Work Out?
We all love having dreams. We like to think about a wonderful future, especially when we are first in a relationship with someone. Then, if that relationship doesn't work out, we feel hurt…we feel betrayed…we feel deprived of that dream…it's like someone ripped it from our hands…isn't it?
The dream that didn't work out could be another kind of dream as well…it might be the dream of having a child…or of starting a new career…a business…a new home…there are many types of dreams that might not have worked out…
These steps help:
Realize that it is over…really over…that dream…
Let the past go…because you can't solve a problem or move forward if you keep yourself in the past asking "What if…".
Set new goals…SMART goals…specific…measurable…aligned with your values…realistic…timed…
Dream a new dream…visualize a new future…filled with a bright and joyful life based on what you value…
Starting Over from Scratch
It can be overwhelming to realize that often the best course of action is to start over from scratch. When you know that everyone has had to start at the beginning…at some point in time…you once were a baby who didn't know how to walk or speak…and yet you did…you did learn, didn't you?
And when I learned to walk…when I couldn't walk without dragging my leg…I kept going…because I needed to learn to walk…it was a part of me…and so I did…walk…even though it wasn't perfect.
And the funny thing is…that today…I walk without a problem…and my smile might be a bit lopsided but not enough for it to be noticeable…because I was lucky…and the brain is more plastic than we used to believe.
So, there are some things that we can overcome…some things that we just do overcome…naturally…others, we need to work at…and remember this:
"Every artist was first an amateur." – Ralph Waldo Emerson
Give yourself a break. Even if the dream was one that you really wanted badly…you can keep going…and maybe the new dream will be different…and that's okay…because we all dream…differently…don't we?
Go out and be the artist of your own life…dream wonderful dreams…and become excellent at it…that's right…
"Drive your own life…you deserve to, don't you?" Sherie Venner
The following two tabs change content below.
Sherie
I am a Relationship Coach who helps others create happy, healthy, loving relationships…including the relationship they have with themselves…by breaking through those blocks and barriers to success. I use various techniques gathered through training as a Master Practitioner of NLP, timeline, hypnosis and common sense gathered through life experience.