I am very lucky to have been born in Canada. Each year, my family celebrates Canada Day the way that many families do…we have barbeques, picnics, visit with family and go to the Canada Day celebrations…I love the fireworks!
But it isn't the celebrations themselves that are so important…it's not the food…or the sparklers…or the face painting. It is the sense of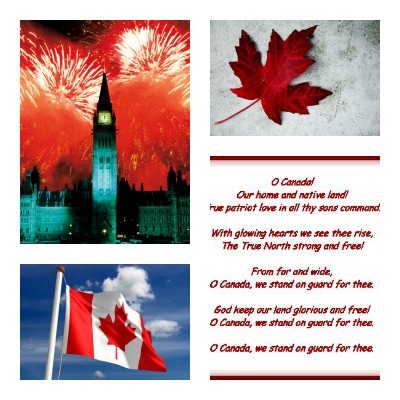 pride that I see on the face of all of the people as they troop towards the large park in the center of Millwoods. Small children clutch the hands of their parents and some little ones are carried. They run and jump, excitedly, and play until it is dark enough to start the fireworks.
Here in Edmonton, it doesn't get dark enough until 11…and then…everything goes quiet…and the children wait…and then…with a loud bang, the first round of fireworks goes off, to the delighted squeals and oohs and aahhhs of the onlookers. And for 15 minutes, we are delighted with the roar, whizz and bang of many, many delightful sights.
When it is all done, the people pack up their chairs and their blankets and take their children and their dogs home…feeling that sense of pride that we feel about being Canadian. We aren't extremely boisterous…it is a quiet kind of pride for most of us, although there are exceptions.
Our country isn't perfect…and you know what I think about perfection, right? But it is a really, really great country…a country that is still relatively young on this planet…just barely 145 years old. So whether you were lucky enough to be born here in Canada or whether you were lucky enough to choose Canada as your home…we are all in the same boat…lucky…
My eyes still tear up when I hear the Canadian anthem playing. I stand for it. So, I am grateful to be a Canadian. I think a lot of us are.
Happy Canada Day! I, for one, will focus on what is right with our country, today, and be grateful for those good things. For those of us who can live in countries where we have so many freedoms, let's count our blessings…at least for today…
No matter what country you live in, think today of one small thing you can do to better the place where you live. Perhaps it is as simple as picking up a piece of litter and throwing it into a garbage bin…if we all took a bit more pride…what a difference it would make…wouldn't it?
"Drive your own life…you deserve to, don't you?"  Sherie Venner
The following two tabs change content below.
Sherie
I am a Relationship Coach who helps others create happy, healthy, loving relationships…including the relationship they have with themselves…by breaking through those blocks and barriers to success. I use various techniques gathered through training as a Master Practitioner of NLP, timeline, hypnosis and common sense gathered through life experience.