Are you aware of the creative power of your imagination? It is a powerful creative tool that you can harness and use to mold and shape the life that you want.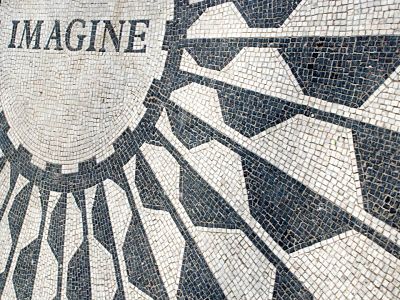 Albert Einstein and Michelangelo had it right…imagination is very important. Here are their exact words and two of my favourite imagination quotes.
"I saw the angel in the marble and carved until I set him free." Michelangelo
"Imagination is more important than knowledge." Albert Einstein
The Role of Imagination in our Lives
Have you ever heard the expression "Your imagination has gotten the better of you?" My mother used it a lot when I was a young girl because it did…get the better of me, that is. I had a very vivid imagination and it was stirred up regularly by my habit of reading everything that I could get my hands on! I grew up in the days of only one television channel (oh my, I have just dated myself, lol). Our local library had masses of books that were murder mysteries and science fiction. I read them all…
Now, if you can picture this…a young girl, reading those kinds of books and living on an isolated country acreage with little to no outdoor lighting? It was dark and my mind assigned scary creatures and people to the shadows. It was not fun…
Our imagination can be a force for good or a force for bad in our lives. If we imagine positive scenarios and focus on what we want, it is a positive force. If we focus on the negative and what can go wrong in our lives, then it can be a force for less than good…and it is powerful, no matter what direction we are focused on.
Focus Your Imagination on What you Want
Have you had difficulty moving out of your comfort zone and imagining what you really want? If you find it easier to focus on what you don't want, you need to reframe that, to turn it around.
If you find yourself saying, "I don't want to be alone anymore", then the question really is, "What DO you want?". Listen for your answer. "I want to have in my life a person who loves me and accepts me" tells you something you need to hear. Be specific.
If you have difficulty with putting a finger on what you want, you might find that negativity is keeping you stuck, with your wishes and desires in your life going unfulfilled.
In order to be able to create a compelling vision in your imagination, you first need to do these things.
Give yourself permission to want what you want.

Make sure that it is ecological that you get what you want; that is, what you want is good for you, good for others, good for the world.

Decide if it is a reasonable desire, one that you actually can achieve that is not an unrealistic fantasy.

Clear up any negativity surrounding that desire or wish that you have.

Realize that you are the one with the power and are 100% responsible for your life.
So let's imagine that you have done all of those things or that it is easy for you to create a multi sensory experience in your imagination…
The Ultimate Creative Power of Your Imagination
The next question to ask is "What would happen if _______ really happened?" Do you feel happy, excited, overjoyed, relieved, satisfied…or does the very idea of your dream coming to fruition frighten you?
If it feels good to you, then you will be able to create a powerful image in your mind…one that ramps up your energy so that you can believe, deep inside, that you can create it…and you will…you will be able to put the actions that you need to take in order to achieve it, into play.
If it doesn't feel good to you, then the creative power of your imagination will give you just that…not having what you want and creating that feeling of lack and despair. You will still feel that you "want" it but you won't be able to bring it into your reality. Feelings are powerful.
Get clear on your feelings. When you can bring the powerful feelings of success into your imagination, along with the vivid pictures and the sensory feelings and imagine the sounds that you will hear…your creative imagination will go into overdrive and you can create what you want…just like that. Everything starts as a thought or as a series of thoughts…make sure that the thoughts you have are the ones you want because you carve your life out of them…

"Drive your own life…you deserve to, don't you?" Sherie Venner
The following two tabs change content below.
Sherie
I am a Relationship Coach who helps others create happy, healthy, loving relationships…including the relationship they have with themselves…by breaking through those blocks and barriers to success. I use various techniques gathered through training as a Master Practitioner of NLP, timeline, hypnosis and common sense gathered through life experience.