If you have ever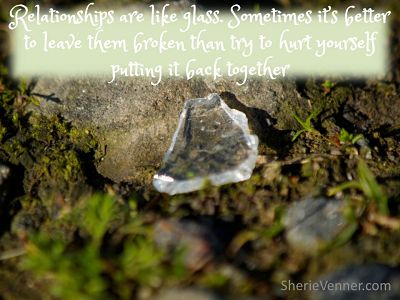 been in love, chances are that you have gone through at least one breakup in your life…and you know how painful that can be.
Even if  both of you agreed that the breakup was best for both of you, it can still be painful…and it doesn't need to be that hard…there are things that you can do to make it easier…really.
Not all relationships can be saved nor should all relationships be saved. There are those that can't or shouldn't be. Only you can be the judge of that. Sometimes, it is better to let it go.
Why is Breaking Up so Hard to Do?
Fear of the unknown. Even if the relationship has had its ups and downs, it was familiar. With that familiarity comes a sense of comfort…and we all know how hard it can be to leave your comfort zone…even if it isn't in your best interest to stay…there are brain chemicals involved, too…those feel good chemicals that you associate with the person you were with…
Focusing on the good. When you think back on the relationship, you have a habit of focusing on the good times…when you look at the stuffed bear he won for you at the fair, you have a sweet feeling deep in your heart.
You are an optimist. You think the relationship can be changed, the other person will do better and you vow that you will change, too, and be an even better you. After all, doesn't true love conquer all?
Some people think that it is holding on that makes one strong; sometimes it's letting go. Tweet this!
3 Breakup Survival Techniques that Work
Dejunk. Get rid of those small material things that you can that reminds you of your partner, pictures, gifts…
Eat some chocolate. Seriously. Chocolate has a chemical in it called Theo bromine that mimics the feeling of being in love. Don't mainline it but a square or two daily will help you get over the rough patches.
The Last Straw Technique. Yes…that is what it is called. Do you know the story about the camel and how it had straw piled on its back…and more straw…and more straw…until finally, there was that last straw…and it broke the camels' back?
This NLP technique is very powerful and very effective and you must promise me…that you will only do this NLP technique if you are very, very sure that there is absolutely no hope for reconciliation nor should there be…that the breakup is going to be permanent…this is not to be done lightly…
This is the simple version and it works…very well…when you have time and you are in a quiet place…think of a time when the person you are breaking up with did something that you were unhappy with…that brings up a very negative emotion about them…and then think of another time…and another…and make those pictures bigger and brighter…and see all the things that you saw…and feel what you felt…and hear what you heard…and then…string those pictures together and make them rush quickly across that mind of yours…and do it…over and over again…until you no longer feel any reason to be with that person…ever again…
This is a simple but powerful technique and you might need to do it more than once. Some people find it easy to go over that threshold and others don't…the ones who don't have very strong images and feelings about good times. So for them, they need to imagine a picture of a very happy time with that person…then imagine all of those negative times, then add the picture of the happy time…that should do it…
When you do this strategy, it weakens and breaks the bonds that keep you attached to that person…and by doing so, the pain goes away…if you are just contemplating a breakup and are having a hard time making the breakup stick (you keep going back even though you shouldn't)…this will make it easy to free you of attachment to the old relationship.
And remember this…a breakup can be a new beginning…as so many things are…
"Drive your own life…you deserve to, don't you?"  Sherie Venner
The following two tabs change content below.
Sherie
I am a Relationship Coach who helps others create happy, healthy, loving relationships…including the relationship they have with themselves…by breaking through those blocks and barriers to success. I use various techniques gathered through training as a Master Practitioner of NLP, timeline, hypnosis and common sense gathered through life experience.