If you have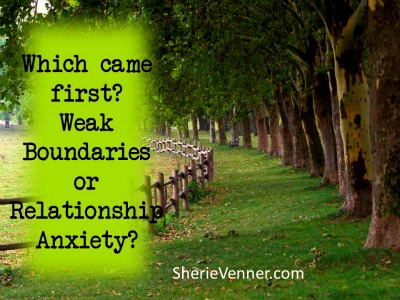 relationship anxiety, this might sound familiar. Are you willing to over commit? Do you sacrifice yourself on the altar of your relationship?
Do you have a tendency to be the one who always makes the compromise? Do you give up what you need in order to salvage the relationship?
If any of this rings a bell for you…or you feel taken for granted…or relationship anxiety is a reality for you…read on…
I have a client who just recently left her relationship because the boundary between her and her significant other were murky. She gave too much. She sacrificed the life that she wanted…in order to please her partner…and in doing so…she lost a big part of herself.
Fortunately, for her, she was able to see that there was a problem, and in spite of having anxiety about the relationship, was able to see her way clear to discovering who she was again…even though the cost was the relationship.
Sometimes…when we begin a relationship on the wrong foot…when one person is continually giving too much…putting their needs last…the relationship can't survive.
Which Came First? Weak Boundaries or Relationship Anxiety?
This really is a chicken or the egg question, isn't it? There probably is no right answer but I will go out on a limb, here. I think it is the relationship anxiety…
Because a person who feels good about themselves…who believes that relationships can add to their lives…and who feels confident when going into a relationship…doesn't let their boundaries get soft…and merge with another person in order to feel good about themselves.
We develop weak boundaries when we are made to feel guilty…to feel shame…as small children. We develop limiting beliefs that we are not good enough…or that we are "less than"…and so we hide who we really believe that we are…
We think that if other people really knew who we were, they wouldn't have anything to do with us. We can think this of people who tell us that they love us…we can think this of people who marry us.
If You are Hiding Who You Are
Then, it stands to reason, that you would be anxious. There would be that constant state of anxiety because you would be afraid that someone would discover who you really were.
What kind of life is that? To hide yourself…no wonder that relationship anxiety is so powerful…
We hide ourselves because we don't believe that it is safe to be us. At some point in time, in the past, a negative emotional event happened…and when it did…you drew a conclusion about yourself.
Was that conclusion true? Absolutely not…because it isn't true that you are less than magnificent…just because you can't see it, doesn't make it so…
Let Go of the Fear that is Relationship Anxiety
Anxiety is just fear. It is fear of an imagined future. When we have relationship anxiety that goes hand in hand with weak boundaries, we don't feel safe because there is no structure…no place where we can pinpoint where we are in space…the point where the other begins…
My client made a decision to let go of the anxiety that was plaguing her in her relationship. She began to define herself as an individual….ask yourself this question:
Who am I without a relationship?
In order to not have relationship anxiety, you actually need to know who you are without a relationship.
You need to feel that you can survive without a relationship.
The minute that having a relationship becomes less significant to you…when you can take one or leave one….then the relationship anxiety goes away.
You have value whether you have a relationship or not. When I was single, I found my husband once I let go of the attachment to ever having a relationship…it's strange how that works…it's almost like we push away, energetically, the very thing that we are wanting so much…
Because if you want it so much…it's because you don't have it…let go of that wanting energy…you can only want something you don't have…when you have the energy of having it…you can let it in…it is a bit convoluted…but if you think about it for a while…it does make sense.
Redefining Yourself and Setting New Boundaries
It is time to set limits…to redefine yourself. Be willing to ask the tough questions that you have been putting off.
Who am I without a relationship?
What is important to me? What do I value?
If I were to be alone for the rest of my life, what would I want to accomplish?
When you know yourself…when you develop a greater self-esteem…your boundaries automatically get strengthened. You can see where you stop and the other begins…
The anxiety about being in relationship goes away with firm boundaries…because you don't fear getting hurt. You know who you are. You're happy with who you are. You aren't dependent on feeling good just because someone else cares about you. You already feel good about yourself.
Then…that relationship anxiety can just slip away…into the night…and disappear…just like that….
"Drive your own life…you deserve to, don't you?" Sherie Venner
The following two tabs change content below.
Sherie
I am a Relationship Coach who helps others create happy, healthy, loving relationships…including the relationship they have with themselves…by breaking through those blocks and barriers to success. I use various techniques gathered through training as a Master Practitioner of NLP, timeline, hypnosis and common sense gathered through life experience.