It is becoming more common…this notion…this misconception that we need to be perfect and that we are not good enough. I am seeing it more and more in clients, friends and family. That belief can underlie so many problems with relationships with others (and certainly the relationship we have with ourselves). Believing that we are not good enough can lead to body image issues, financial problems, anxiety, depression…so many things.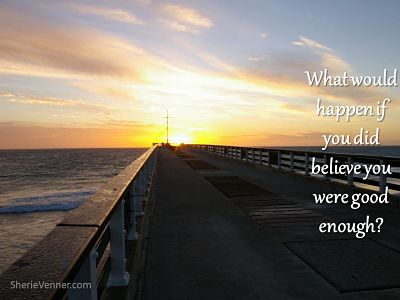 What Happens When You Believe You're Not Good Enough?
The problem with thinking that you are not good enough is that you apply it to YOU…the essential YOU, the core that represents YOU…not to your behaviors. You aren't going around saying that your behavior needs to be improved…and if you do, you don't really believe that…no…the core belief at the bottom of it is that YOU are not good enough. We call that an identity level belief.
Believing that you are not good enough is one of the biggest lies and greatest disservice that you can do to yourself and it can lead to:
Failure at creating and maintaining relationships

Insecurity

Lack of confidence

Inability to allow success in the fields of career and education

Addictions

Bullying and being bullied

Low self esteem

Depression

Anxiety

Abusive relationships
…and more…
Where Did That Belief -I am not good enough- Come From?
Quite often…from childhood…when we get older and are running our own lives, you would think that it gets easier to let go of those old childhood patterns…but sometimes, it doesn't…because we carry the voices of our parents or other authority figures (or who we thought they were), in our minds…
It is like we have this idea of who our parents, or teachers, or grandparents or others were and what they wanted us to do. It might have been right or it might not have. After all, it was a three or four or five year old (maybe even older…you could have been a teenager) who decided that, wasn't it?
So when you think of how that small child made that decision…from that view point…well, it was biased…and it might not even have been what our parents or person in authority was really thinking, after all.
This idea of not good enough can also come from society and media ideas that are spread across our world. If you were exposed to media ideas or peer pressure about how your body should look (and this applies to both men and women), it is very easy to pick up the idea of not good enough. Or perhaps it is how much money you make or don't make…there are many areas that can contribute to that belief…
How Can You Overcome "Not Good Enough"
Pinpoint where the idea first came from. When you know where the belief came from, then you can use that to change the belief, in so many different ways. When you have a starting point, you can change how you looked at the event that happened…and when you change that perspective, even by a little bit…well…it can be the difference that makes all the difference.
Reframe the meaning of "not good enough" or "perfect". We all assign meaning to our words and because we do, we can change the meaning of those words. In order to have in your head an idea or concept of what "not good enough" is, you need to have an idea of what "good enough" is. Change how you define "good enough" and see what happens.
Be in the now. When we live in the present moment, we can release the past and the notion that we ever were "not good enough". In order to hold on to that belief, you have to remind yourself of times in the past where you believed that. In the now, there is just "good enough" and being in the present moment. Let the past and those memories stay in the past, where they belong.
Look in the mirror and ask yourself "Why is it so easy for me to know that I am good enough?".
When you take look at the belief "I am not good enough", realize that even if that belief served you at some point in time, now is as good a time as any to let it go…because, in all probability, it isn't getting you what you want…and if it is at the bottom of any of any issues, changing your belief to "I am good enough" will help.
Because believing "I am not good enough" really hasn't helped you, has it? So you can let it go and it will be a good thing…and think about just what would happen if you did believe that you were good enough…that's right…
"Drive your own life…you deserve to, don't you?" Sherie Venner
P.S. I'd love it if you Liked my page!
The following two tabs change content below.
Sherie
I am a Relationship Coach who helps others create happy, healthy, loving relationships…including the relationship they have with themselves…by breaking through those blocks and barriers to success. I use various techniques gathered through training as a Master Practitioner of NLP, timeline, hypnosis and common sense gathered through life experience.