As children, we all played an excuses game and were highly skilled at it…"he made me do it…" etc. "I had to eat it because it looked so good and there wasn't much left…it was just a little bit"…or maybe you are familiar with this one…"it's her fault that I yelled at her (hit her). If she didn't act that way, I wouldn't have to do it!" There are never good excuses for bad behavior.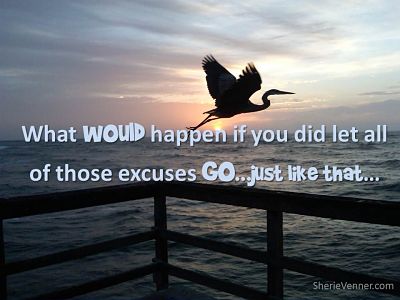 Bad Excuses and Good Excuses
There are all kinds of excuses. Some are good excuses. Some are bad excuses. For example, this week I had dental surgery and was told by my dentist to rest, among other things. So I had an excuse to not do housework or walk the dog. It was a legitimate excuse and one I would rather have not had!
Breaking a leg and being told to stay off of it for x number of weeks is a good excuse to stay on the couch. Sitting on the couch all day and eating chips in front of the television for x number of weeks "because I'm bored and can't think of anything else to do" is a bad excuse.
Do you remember when you were young and you asked your parents (usually your mother) if you could do something? And she asked "why?" and you said…"because all the other kids are doing it"…and she gave you that look and said to you "If all the other kids were jumping off a bridge, would you do it, too?" Maybe it was just my mom who said that…but I think not…that is a bad excuse.
There are lots of good excuses and there are lots of bad excuses.
Why Do We Continue to Make Bad Excuses
Because…on a certain level…it works…that is why we do everything…on a certain level, it works for us…we get something out of it, even if we aren't aware of it. There is a desire to have or do something in our lives and yet…underneath that are the "justified reasons" or excuses that prevent us from accomplishing it.
It's a habit or pattern to make excuses that we have gotten into (and habits can be broken)
It helps us to avoid taking responsibility for our lives (it wasn't my fault)
It helps us to cope with a life that is overwhelming (we can get new coping skills)
It prevents us from feeling pain or embarrassment in new situations (or so we think)
It stops us from dealing with any underlying negative beliefs (those can be changed)
Taking Responsibility: the Ultimate Excuses Killer
When we can understand that our behaviors all stem from CHOICE and we can take responsibility…those excuses all fall away.
Yet, taking responsibility can be one of the hardest things that we ever do. For some people, it is a gradual realization that the path to personal power starts with being at a position of assuming responsibility. For others, there is a sudden moment of realization, an epiphany, that if they want things to be different, they must be at choice…
There is no right or wrong way to arrive. You might be surprised at how quickly you can let go of making excuses…if you saw that you could…let go…just by making a choice to…how easy would that be?
And imagine all of the good things that can happen if you believe that you ARE at choice…that you hold that power in your life…it makes it all so much better…doesn't it? Because when you know that you are the one who makes the choice, then you are the one who makes all of the choices…and you can have the life that you choose…when you let all of those bad excuses go…
"Drive your own life…you deserve to, don't you?" Sherie Venner
The following two tabs change content below.
Sherie
I am a Relationship Coach who helps others create happy, healthy, loving relationships…including the relationship they have with themselves…by breaking through those blocks and barriers to success. I use various techniques gathered through training as a Master Practitioner of NLP, timeline, hypnosis and common sense gathered through life experience.