The spectre of unemployment is affecting a lot of people today. In the midst of sudden change in employment status, whether it is from a layoff, termination, or the company that you worked for has gone under, it can be a shock.
When people are faced with a shock, they can become depressed, angry or feel symptoms of anxiety. All of this takes a toll on a person's self-esteem and how they feel about themselves and the people they love. Relationships are under massive pressure in a time of unemployment.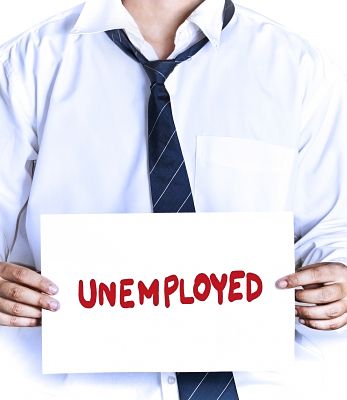 In order to survive and even thrive when unemployment strikes, there are steps to take that will help you feel that you have your power back…and that is critical. When you feel that you have power in a situation like that, you are able to get back on your feet quickly.
"The hardest work in the world is being out of work".
~Whitney Young, Jr.
Tip #1 It is Critical to keep to a Regular Schedule
This is tip #1 because it is the hardest thing to do. Jackie is a 43 year old woman who has been laid off from her job as an executive assistant. After the initial shock has worn off, Jackie finds herself at loose ends…she watches too much television, surfs the internet for hours and finds herself at the mall buying things that she no longer can afford. It feels to her that she is on automatic, going through the motions of her life, without a sense of purpose.
Get out your planner and make a plan for each day, give yourself the weekends off because you need to do that. Looking for a job is work. It is hard work…harder than having a job. There will be things that you don't have control over and there are things that you do. Your time is one of the things that you have control over.
Get up at a set time, get dressed (not in sweats and this applies to guys as well, even though our example is a lady!). Plan how many hours a day will be spent in job search, resume creation, resume submission and job interviews. Then do it.
Tip #2 Team Work Rules!
If you have a spouse or significant other, enlist them in your fight for employment! Quite often, one spouse will have strengths in one area that the other spouse does not. Brainstorm together and when you realize that you are a team, you will strengthen your relationship.
If your partner is better at writing than you, have them create the bones of the resume and cover letter using the information that you provide. If you don't have a spouse or partner, enlist the help of a good friend who has the skills that you don't.
When Tom lost his job as an IT tech, Maria, a stay at home with great writing and research skills, did the job search on the computer every afternoon. She would find the jobs, email them to Tom, Tom would look them over and say "yes" or "no". They created folders on their computers that both could access through a home network (you don't have to go to this extent, sneaker net works well, too!).
Her writing skills were better, so she was able to edit and modify his resume based on the research she did on resumes on the internet. He sent in the applications and did the interviews. Tom was one of the lucky ones…with his skill set, home support, and the team work effort; he landed a much better job than the one he lost, in only 3 months.
If you don't have this kind of support system (and a lot of people don't), hire someone to do a professional resume for you. Allot time every day for job search and do it, every day, Monday to Friday.
Tip #3 Exercise and Eat Well
Now, it is even more important to keep your spirits up by exercising. The endorphins will help to keep depression and anxiety at bay. Watch your food and alcohol intake and keep yourself in fighting form. If budget is an issue, and it usually is when you are faced with unemployment, skip the prepared foods and eat whole foods…it is cheaper in the long run.
Tip #4 Keep Your Social Ties Active
One of the dangers of unemployment is the lack of interaction with other people, other than family, on a daily basis. It is too easy to allow yourself to be isolated. Activities that serve to isolate can be too much television, computer gaming, and surfing on the internet
Even if your budget is tight because of unemployment, budget in activities with friends. Find economical ways to interact, such as potluck dinners, renting movies and popping your own popcorn, hosting a party in your own home…use your imagination and remember that the only one really judging you is you. True friends give you support in times of trouble, they really do.
Remember, you are not alone.
Tip # 5 Visualizing a New and Better Life
This tip I have saved for last and it is certainly not the least…when you have bad days and there will be bad days…you must monitor yourself talk and picture a better life for yourself. Play a different movie in your mind where you can see and feel that new job, just around the corner…because it is there…right there…even if you can't see it yet.
Take a look at the job you left behind and see what you would have liked to happen differently…and then, find a better job, one that is better suited to your skills and dare I say it, maybe, even pays you a bit more? Wouldn't that be nice….yes…it is possible to create better than you had.
You can survive unemployment emotionally and actually come out of it stronger than you went into it. Anxiety and depression are a thing of the past when you realize that you can create a better life for yourself. Keep on going…it might seem darkest before the dawn…but there is light at the end of the tunnel…it might take longer than you thought…but if you do all that you can, you will come out of it stronger and so will your relationship.
"Drive your own life…you deserve to, don't you?" Sherie Venner
The following two tabs change content below.
Sherie
I am a Relationship Coach who helps others create happy, healthy, loving relationships…including the relationship they have with themselves…by breaking through those blocks and barriers to success. I use various techniques gathered through training as a Master Practitioner of NLP, timeline, hypnosis and common sense gathered through life experience.