There is a story…a story about two frogs…the two frogs were playing in a meadow when they were caught by a farmer…he brought them back to a farmhouse and put two pots on the top of his wooden stove…one frog he put in a pot of cold water and set the temperature under the pot to low…and the frog stayed there…the other pot he let boil and then threw the other frog in….that frog jumped out of the pot immediately.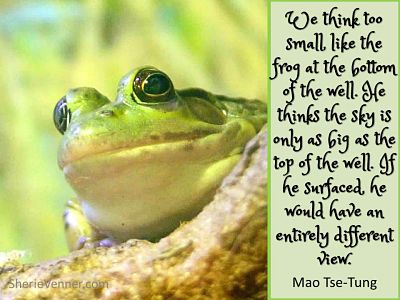 "We think too small, like the frog at the bottom of the well. He thinks the sky is only as big as the top of the well. If he surfaced, he would have an entirely different view." ~Mao Tse-Tung
Ignoring the Problems in Your Relationships

What happens when you are in a situation that you tolerate? After a while, it becomes the new normal for you. Think of it this way, when you have a bedroom that you keep immaculately clean, you like it to stay that way.
If, for some reason, your habit changes (let's say you get a new roommate or you were sick for an extended time) and you start leaving clothes on the bedroom floor…and they stay there…after a while, your brain starts to think that it is normal for the clothes to be there.
What happens if you are in a relationship with someone…and they yell at you, loudly…and you do nothing or very little to stop it or voice your concern. They yell at you again and maybe hit you…and you don't do anything to stop it…after a while, that becomes your new normal. You become accustomed to that kind of behavior towards you. You don't know when enough is enough.
It becomes very hard for men or women who are in an abusive relationship of any kind (and there are many) to leave because for them, it is the new normal. It is like the frog in the pot that starts out cold…everything seems fine…and the frog doesn't notice that the temperature is getting hotter until it is too late…and then, it really is too late for that frog.
Aren't you glad that you aren't a frog? That you have the ability to see those behaviors that you don't want to have in your life anymore. When you realize that the behavior that you were tolerating is NOT normal, you can change it…can't you? When you no longer ignore it…when you see that it is there…that is where the power is.
How Do You Define Normal in Your Relationships with Yourself and Others
You might need to do research to find out what a healthy normal is in a relationship. You might not know…especially if you saw bad, violent, abusive, or codependent relationships modelled for you by parents, relatives, friends, or others in your life. Look around…ask questions…read books…find blogs…there is a lot of information out there.
What do you think a truly functional relationship should look like?
What is normal for you now in a relationship?
What would happen if you could feel powerful while you are in relationship with another?
What is your WHY for having a wonderful relationship?
When you no longer tolerate the intolerable, when you know when enough is enough,  opportunities come into your life. You can be open to new ways to improve your relationships. You might have to make the hard decision to leave a relationship…I don't know…and remember that everything is relationship…
Are you tolerating the intolerable? Is it in a relationship with someone else…in your relationship with yourself…in your work life…in your relationship with your own body…you can do this lovingly…with a positive motivation…because you are the director of your own movie…aren't you?
Believe in yourself and know that you deserve…really deserve…to have relationships that work…that support you in being the amazing individual that you are…that embrace respect and love…and step up to that plate and claim the very best…because you can…because you can feel that you do deserve it…it is as simple as that…
When you know that enough is enough…think of that life where you no longer tolerate bad behavior…just like that…that life, over there, where you know your own value…and it is a lot…
"Drive your own life…you deserve to, don't you?" Sherie Venner
The following two tabs change content below.
Sherie
I am a Relationship Coach who helps others create happy, healthy, loving relationships…including the relationship they have with themselves…by breaking through those blocks and barriers to success. I use various techniques gathered through training as a Master Practitioner of NLP, timeline, hypnosis and common sense gathered through life experience.