Have you been believing lies that others or you have been telling yourself? Don't feel bad about it…it's something we have all done at some point in time or another…and you don't need to do it anymore.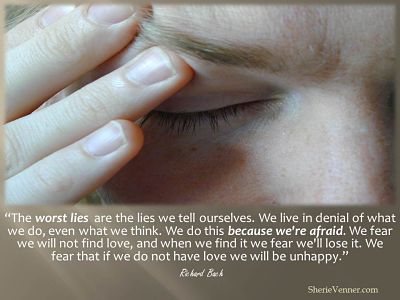 Richard Bach has an amazing quote:
"The worst lies are the lies we tell ourselves. We live in denial of what we do, even what we think. We do this because we're afraid. We fear we will not find love, and when we find it we fear we'll lose it. We fear that if we do not have love we will be unhappy."  Richard Bach
What Types of Lies do you Need to Stop Believing

?
The lies are the stories that we weave into our lives that aren't true and we need to stop believing those lies. They are fantasies, that keep us  living in a world that we think is real but isn't. We see an event in our lives, like being left by a loved one through divorce or abandonment, and we tell a story. That story says that if we were good enough, or we had just done this or that…you know that story…if only…then it would have been different? But would it?
Look back and see if it really would have been different. What if you weren't the problem? Yes, there is always something that we can better about ourselves. I am all for self-improvement. : D ….and life, is after all, a journey, a journey of many steps that has its ups and downs.
The problem lies in placing blame and shame on ourselves. People hold onto the negative beliefs and those negative beliefs are the lies…and why? Because of fear…of the fear of being unloved…that lies beneath so many negative beliefs…it really does…
What Got You Here Won't Get You There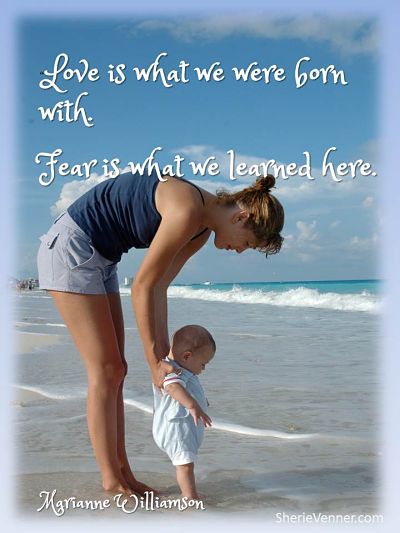 You can't solve this way of thinking by thinking the same way that got you to this point in time. You really have to change your perspective…and you can because….
"Love is what we were born with. Fear is what we learned here."    Click here to tweet this.

Update: This is from a longer quote from Marianne Williamson (thanks to one of my commenters for pointing this out!)  Here is the full quote:
"Love is what we are born with. Fear is what we learn. The spiritual journey is the unlearning of fear and prejudices and the acceptance of love back in our hearts. Love is the essential reality and our purpose on earth. To be consciously aware of it, to experience love in ourselves and others, is the meaning of life. Meaning does not lie in things. Meaning lies in us."  Marianne Williamson
There is a meditation that you can do…a simple meditation…so take a moment and think of a safe place in your mind…a place of peace and comfort…a place where you can breathe…deeply…now…just like that…
…and when you are in that place of peace and safety…in your mind…I want you to remember a time…when you were new…when you were first here…and you knew that you were loved…wholly and completely…and feel that love…and see what you saw in that moment…and hear what you hear…and allow all of those feelings of love to just be there…so that you know how wonderful you are…that you are full of love…and take those feelings and make them bigger…and double it…and make them brighter…until you can feel those amazingly wonderful feelings of love filling you from the top of your head to the tips of your toes…just because you can.
Make those feelings a part of you…and when you are ready…take those feelings with you…when you come back to this moment…and realize that at any moment in time…any time that you choose…you can have those feelings of love…because they exist…separate from time…don't they?
If you do a meditation like this on a daily basis, just before you go to bed, perhaps…or maybe first thing in the morning, and you begin to feel that those feelings of love are normal for you…you will find it so much easier to do those things that you need to do to fulfill your purpose here…you really will…and you will stop believing those lies…now.
"Drive your own life…you deserve to, don't you?" Sherie Venner
Click here to like my facebook page!
The following two tabs change content below.
Sherie
I am a Relationship Coach who helps others create happy, healthy, loving relationships…including the relationship they have with themselves…by breaking through those blocks and barriers to success. I use various techniques gathered through training as a Master Practitioner of NLP, timeline, hypnosis and common sense gathered through life experience.