Imagine this.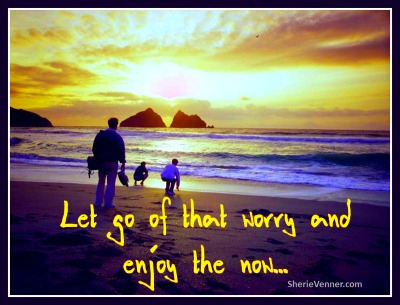 The holidays are looming and you have a party coming up. It might be a party that you are planning or it might just be an important party that you have been invited to.
You start to worry. What if no one comes? What if the food isn't good enough? Or if it is a party you've been invited to, you start to think thoughts like these…"What if no one talks to me?" "What if I'm there all alone?" or possibly "What if I spill something on my clothes or make a fool of myself?"
That worry is worry that is self-directed. It has been created in your mind.
Getting Rid of Worry
So what exactly is worry? This is the way that it has been explained to me: Worry is thinking about a negative outcome of an event in the future and creating fear about that event. That sounds just about right, doesn't it?
So if you have a tendency to worry…especially about things that you have no control over…then…instead of imagining the worst case scenario, think about a positive outcome. That isn't always as easy as it sounds, though.
Filling the Void with Confidence
When there is the state of worry, the natural consequence of that is having no confidence. Who would feel confident about an event that they were worried about? That's right…no one…if you're worried, you are definitely not in a confident frame of mind.
So, in addition to imagining a positive outcome, think of a time when you felt super confident…a time when you felt that you could conquer the world…that's right…
See what you saw, feel what you felt and hear what you heard…and when that feeling of confidence is very strong, use a word…a word that has meaning to you…say a word like "strong"…whatever you choose…a word that you don't use often…you can even make one up…that's right…
Then imagine that scene again…and make it bigger and brighter…put life into it…just like you were right there, experiencing it again, in full color, with all of the sights and sounds…and say that word that you chose again…
Then, if you happen to need it…when you say that word again…with the same intensity that you used it when you were thinking of that time…all of those emotions will come back…and you will feel confident…
When you get rid of a belief or a negative state, there is a void left. Fill it with something positive…and watch for the change in your life…
"Drive your own life…you deserve to, don't you?"  Sherie Venner
The following two tabs change content below.
Sherie
I am a Relationship Coach who helps others create happy, healthy, loving relationships…including the relationship they have with themselves…by breaking through those blocks and barriers to success. I use various techniques gathered through training as a Master Practitioner of NLP, timeline, hypnosis and common sense gathered through life experience.