Father's Day. It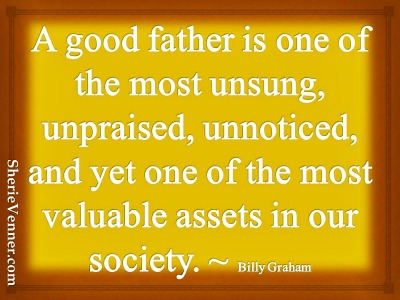 has special significance in our family.
That was the day that I married my best friend, my companion, my soul mate (yes, just one person!).
We didn't intend to marry on Father's Day. We had planned for the Saturday before.
My brother and his family couldn't come that day. So we switched to the next available date… Sunday, June the 16th.
That day, we celebrated the joining of our lives with our daughters beside us. That day, we became a family.
This year, our anniversary falls once again on Father's Day…and I am reminded once again of one of the qualities about my husband that I love the most.
Shane is an awesome father. He was willing to take on a ready made family, complete with four daughters.
What Does It Take to Be the Best Father for Your Children?
You don't need to be a biological father to be a great father.
You need to love them…no matter what. Children need to know that you've got their backs.
You need to take good care of yourself, as well as your children.
You need to listen to them. Really listen. That means keeping quiet while they speak…giving them that opportunity.
You need to be willing to allow your children to fail…and they will…because we all fail sometimes.
You need to be interested in their lives…their friends, their interests, their accomplishments, their failures, their successes…
You need to be willing to set boundaries…because children thrive with boundaries that are fair. That doesn't mean ruling with an iron fist…
You need to look at the expectations you have for your children…and realize that they are individuals, separate from you…and that's good…
There are so many good men in the world. Men like Shane…who value family…who work hard to be the best fathers they can be…who value the blessing of being a parent.
Two Favorite Quotes about Fathers
I love quotes about dads…and wrote a post last year. Here are two more quotes that I think say so much…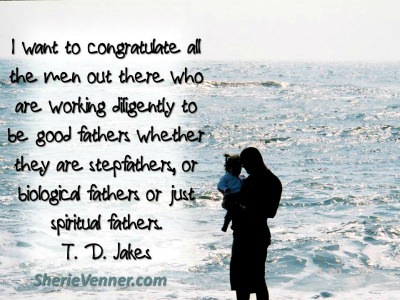 "I want to congratulate all the men out there who are working diligently to be good fathers whether they are stepfathers, or biological fathers or just spiritual fathers." T. D. Jakes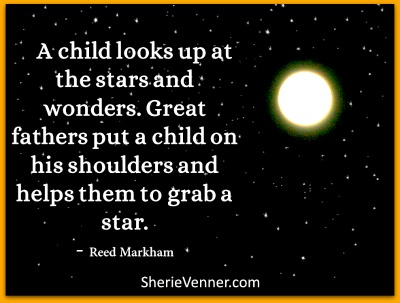 "A child looks up at the stars and wonders. Great fathers put a child on his shoulders and helps them to grab a star."– Reed Markham
So, to all of the amazing fathers out there…take a look at what you're doing that is working in your families…and give yourself a pat on the back…and acknowledge that you are doing one of the toughest jobs …and one of the most rewarding jobs in the world.
If there are areas that you want to improve in your fathering role…and we can all improve…and make our lives better…remember this… when you change your life for the better, you change your children's lives…
"Drive your own life…you deserve to , don't you?" Sherie Venner
The following two tabs change content below.
Sherie
I am a Relationship Coach who helps others create happy, healthy, loving relationships…including the relationship they have with themselves…by breaking through those blocks and barriers to success. I use various techniques gathered through training as a Master Practitioner of NLP, timeline, hypnosis and common sense gathered through life experience.