The biggest problem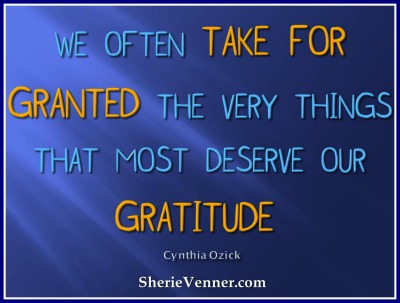 with feeling like you are being taken for granted is the feeling of being powerless to change it.
But what if you actually did have the power to do just that?
What if you could change that by changing your own behavior?
Because we all know that you can't change anyone else's behavior…don't we?
Let's take a look at that…and answer some questions…
These questions might be painful for you to answer…but you know…hiding from the truth isn't getting you what you want…
7 Questions to Ask if You Are Being Taken for Granted
Are you needy and always available?
Do you drop your plans at a moments notice?
Do you value what they think of you….rather than what you think of yourself?
Are you afraid to be alone?
Do you put yourself down in order to make the other person feel better about themselves?
Do you feel that you deserve to be taken for granted?
Do you walk on eggshells…making sure that you never say/do anything to upset the other?
So here are some different ways to think… so that you can stop letting people take you for granted.
If you feel that you are incomplete without a partner/relationship…realize that is not true. The purpose of relationships is not to complete us. Do you remember the scene in Jerry Maguire where he says "You complete me"? That is a myth.
In relationships that work, two complete, whole human beings come together as partners. Neither completes the other. They are already complete. Rather, being in partnership enhances their lives…
If you are being taken for granted in any of your relationships, look at how you treat yourself, on a daily basis. What areas of your life are you taking for granted? Are you taking your physical health, emotional health, financial health for granted? When was the last time you thought about what is important to you?
Make a plan to honor yourself. When you start treating yourself better…and not putting yourself last…then other people will treat you better.
When I was first divorced, on the very first Valentine's Day after the divorce…I realized that I had never received a dozen roses…in my life…
I thought to myself "Why wait? I deserve to have roses…even if I have to give them to myself"…and I did. I drove my car to the florists…and walked into the shop with my head held high.
I picked out the loveliest bouquet of bright, heart red roses…and a sparkling glass vase to put them in…and proudly bought those beautiful flowers for myself…because I deserved to have those roses…
I felt so happy when I went home and arranged those fragrant roses in the vase. I felt my heart singing…and it was a reinforcement of the idea that had been growing in my mind and my heart…that I deserved…that I was worthy…
And you know…the strange thing is…when I felt that way…when I made that a part of my physical reality…I met my husband two weeks later…
Coincidence? Maybe…but you never know do you?
"Even the smallest victory is never to be taken for granted. Each victory must be applauded…" Audre Lorde
So tell me…in your life…what are some of the ways…or even just one way…just one thing that you can do…to let that wonderful unconscious mind know that you deserve…that being taken for granted is not an option anymore….let me know in the comments below…
"Drive your own life…you deserve to, don't you?" Sherie Venner
The following two tabs change content below.
Sherie
I am a Relationship Coach who helps others create happy, healthy, loving relationships…including the relationship they have with themselves…by breaking through those blocks and barriers to success. I use various techniques gathered through training as a Master Practitioner of NLP, timeline, hypnosis and common sense gathered through life experience.