If you've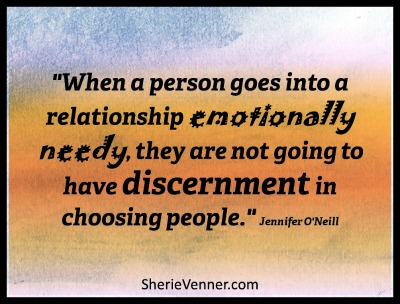 ever felt like you kept falling for the same bad relationship…almost like you were a magnet that attracted them…then keep reading.
I've heard this question a lot lately…from both men and women who felt like that. I used to feel like that. It was like I was creating the same kind of relationship…over and over again…you know what I mean?
Are You Really Attracting Bad Relationships Like a Magnet?
Have you heard that we attract what we think about? Well, in a way that is true…because we think about what we believe in…and so our thoughts show us what we believe.
If you believe that you don't deserve a good relationship, the odds of creating one are low. If you believe that you do deserve a good relationship, the odds of creating a good one are much higher.
Why? Because what we believe determines our behavior. Our behavior determines the results that we get.
"When a person goes into a relationship emotionally needy, they are not going to have discernment in choosing people." Jennifer O'Neill

Simply, it's like this. Let's imagine that there is someone named Maria. Maria had a negative event in her life that led her to believe that she was "less than"…not "good enough"…that "men can't be trusted"…
This is her view of the world. It's not right or wrong…it just is…and it's not working for her…
Maria is uncomfortable being alone…she goes from one bad relationship to another…attracting emotionally unavailable men, financially unstable men who "borrow" money from her and never return it, men who are abusive…one way or another.
As soon as she gets out of one relationship, she is on the hunt for another…she thinks that she will get it right the next time…even though she doesn't make those important changes that she needs to…she thinks it's just bad luck…that she hasn't found the "right one", yet…
Maria goes to a party where she is introduced to two men. One is a charmer; he knows all the right things to say and makes her smile, immediately. All the bells and whistles are going off. Maria feels an immediate attraction and he's exciting.
The other guy…well, he's a bit more shy, a hard worker, smart, and there are no bells ringing when she meets him. He is pleasant and when he asks Maria for her phone number at the end of the evening, she politely declines. He isn't her type. He isn't exciting at all.
Maria embarks on a relationship with the charmer…and he lets her down…just like all the others did…
If You Hear Bells, Run…and do this…instead… 
Be okay with being alone and being with yourself. When you let go of that emotional neediness, then you will choose a better relationship, when the time is right.
Your type is not your type. If you find yourself consistently creating relationships with someone that you immediately want to jump into bed with, run.
Change the criteria you are using for choosing a relationship and you change the type of relationship you are creating. Look at your values…what's important to you?
Look at the patterns in your past relationships. What is common among them? Are you choosing based on physical looks, attraction, and income level? Be real about how you made those choices…
Have you waited to know who the person really is before allowing yourself to fall in love or be physically committed to them? It might not sound romantic…but remember this…you are choosing who you are in a relationship with…making sure that THEY deserve YOUR love…
When you change that perspective…and when you start thinking about whether a prospective relationship partner is worthy or your time…and attention…instead of worrying if you are good enough for them…then it is so much easier to create a good relationship.
So…let go of being a magnet for bad relationships…relationships filled with drama, chaos, any kind of abuse (emotional, physical, financial)…they're not fun…
Change those underlying beliefs and step into a happier future…where you look at your world through different eyes…where you expect respect in your relationships…and then…it is there…because you make that choice…isn't that right?
"Drive your own life…you deserve to, don't you?" Sherie Venner
The following two tabs change content below.
Sherie
I am a Relationship Coach who helps others create happy, healthy, loving relationships…including the relationship they have with themselves…by breaking through those blocks and barriers to success. I use various techniques gathered through training as a Master Practitioner of NLP, timeline, hypnosis and common sense gathered through life experience.