Helplessness…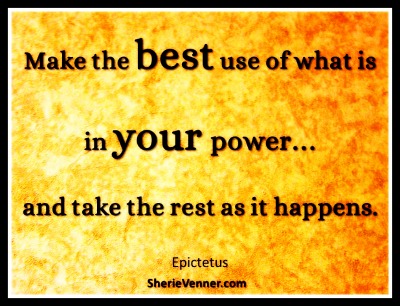 Have you ever felt like just giving up?
You know that helpless feeling you get…when you believe that no matter what you do…it just doesn't matter…things will never change…
I've been there…in the past…felt so stuck that I thought that I would lose my very soul in the mire that I was in…I felt those feelings of  helplessness…absolutely unable to do anything…and that was a long time ago…
The Problem with Feeling Helpless
When we feel helpless, we don't realize that we have control of our own lives. I know that is how I felt…and it's a shame really…because we really aren't helpless…we just think we are.
Because of events that happened in our past…and the things we allowed others to tell ourselves…we thought we no control over our own lives…that we were powerless..and that's where those feelings…those feelings of helplessness came from…
And we only thought that way…it wasn't real…even though it felt real. We only ever needed to step up to the plate and claim that power…it was there all along, wasn't it?
When I felt helpless about the situation I was in, I could see that other people had what I wanted in their lives…and yet I didn't have it…I had a deep rooted belief that they could have it…but I couldn't…that no matter what I did…it was just out of reach…that life that I wanted to have…so desperately.
Being Grateful? My Dynamite Situation
When you are overcome by feelings of helplessness, the last thing that you want to do is feel grateful…and because of that…it is the first thing you should do. Gratitude is a simple thing but it's not always easy.
If you are struggling…and you're knee deep in a relationship that doesn't support you…one that may even be hurting you…what do you think there is to be grateful for?
You're alive
If you're reading this…you are…ALIVE…and if that is all you can be grateful for…it's enough…
When I was in university, we had the opportunity to do prospecting for our summer work. We went in small groups of four or five and we got dropped off in the northern wilderness of Manitoba to search for uranium.
It was really a fascinating experience, especially the time when our camp was destroyed by a bear. It came and ripped apart the cooking tent while we were away mapping and collecting rock samples. Fortunately, we were gone when it came and tore those supplies apart.
One of our trainers came up to visit and teach us how to use dynamite, to get some samples. Nick was a grizzled old prospector, in his seventies…and he was a patient man.
I was young…just 17…and not very patient…and I complained bitterly about being there…in the hot sun…learning how to correctly light dynamite.
Nick turned to me and said this…and I have never forgotten it…he said "Every day above ground is a good day"…and he was right…
No matter what we are going through…if we just hang onto that idea…that because we are alive…it's a good day.
Even if we are in pain…physical pain or emotional pain…and emotional pain can be just as painful as some of the worst physical pain…we need to keep going…just because…and be grateful…to be alive…to have the opportunity to live another day…to fight for ourselves another day…
Overcoming Those Feelings of Helplessness that Kept You Stuck
"Make the best use of what is in your power, and take the rest as it happens." Epictetus
 You might not know what to do yet. You might have feelings of helplessness… But it won't last…because you have the capacity to learn…to discover…all that is you…and that you is so capable…
These 5 Ways: You Don't Need to Feel Helpless…Anymore…Step into that Power…
When you take responsibility for your life…then a corner is turned…and that feeling of helplessness…it just fades away…
Take stock of where you really are…a reality check might show you that you have more resources than you think you do…make a list…write it down….
Stop magnifying the emotions of helplessness….shrink them down…laugh them off…make them insignificant in your mind…
Focus on where you have succeeded…in all of those small ways…
Look to a future of possiblities and make those big…bright…full of happy and wonderful sights and sounds…and feel those feelings…of joy…and excitement for that future…
There is light at the end of that tunnel…and remember…to let go of all of those feelings of helplessness…because they don't serve you, do they? Find those feelings that do serve you…and give them priority in your mind…
"Drive your own life, you deserve to, don't you?" Sherie Venner
The following two tabs change content below.
Sherie
I am a Relationship Coach who helps others create happy, healthy, loving relationships…including the relationship they have with themselves…by breaking through those blocks and barriers to success. I use various techniques gathered through training as a Master Practitioner of NLP, timeline, hypnosis and common sense gathered through life experience.