In a way,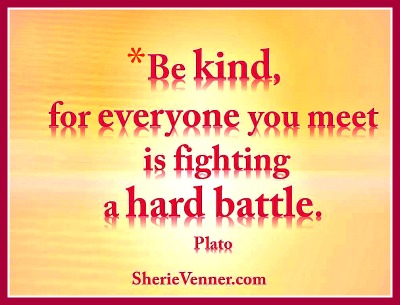 we all are fighting a hard battle.
Life comes with many challenges, doesn't it?
The challenge can be a hard battle with our health…with how well our bodies and structure function…with the relationships we have with ourselves…or for a lot of people, the relationships that they have with others.
We fall into problems when we think that everyone else has it better than we do. They might…in certain areas…at certain times…
Let's imagine that there are two neighbors. Jill looks like she has it all. She has a great relationship with her husband. They look so happy together. Their home is paid for. Their children have all grown up successfully
.
Then there is Jane. She is a single mom who has two children; one has special needs and needs a lot of extra attention. Jane has a job that she tolerates; it pays the bills but doesn't give her any emotional satisfaction.
Jane looks at Jill, envying her, thinking that she wishes she could trade her life for Jill's. She is envious of how happy her neighbor is and how financially secure. What she doesn't know is this…Jill has fibromyalgia and lives with chronic pain. And what she doesn't know is this…Jill envies Jane.
Jill envies the ease with which Jane moves. She envies how she can play with her children….riding bikes with them on the weekend and playing ball in the back yard.
We all have our hard battle to fight. Some of them are obvious. Some of them are not. Some of those battles are obvious to the world. Often, mental illness, stress, depression, anxiety…that kind of hard battle isn't often visible to other people in our lives, is it?
Be kind, for everyone you meet is fighting a hard battle. Plato
Developing Empathy in a Hard Battle World
When you have empathy for another, it means that you can imagine what it feels like to be them. When we have that empathy, then we are less likely to stand in judgment over another. We can feel their pain…just enough…
There is an exercise for that, based on NLP techniques that I would like to share with you. And you might ask, why would I need to feel empathy? Because when you can understand…even just a little bit…why the people in your life might act the way they do, it makes your relationships stronger. Understanding is always a good thing.
This NLP Exercise for Empathy
Imagine this….think of that one person that you would like to understand on a deeper level….because that is what empathy is….and imagine that they are standing in front of you…just like that…and take a deep breath…just because you can…that's right…
And now…imagine stepping into their body….and looking through their eyes…and seeing what they see…and feeling what they feel…and hearing what they hear…see the world in that different way that they do…because we all see the world differently…don't we?
And now…imagine what a day would be like in their life…there is an old saying….walk a mile in my shoes…what would it be like to walk a mile in their shoes…and when you've seen enough…step back out and into your own self…and see the world through your own eyes….and ask yourself…am I seeing things in a different way, now? Take a deep breath….that's right…
Everyone is fighting a hard battle…and once we understand that…we can be more tolerant and let go of judgements…and then, we can stop being so hard on ourselves…as well…can't we?
"Drive your own life; you deserve to, don't you?" Sherie Venner
The following two tabs change content below.
Sherie
I am a Relationship Coach who helps others create happy, healthy, loving relationships…including the relationship they have with themselves…by breaking through those blocks and barriers to success. I use various techniques gathered through training as a Master Practitioner of NLP, timeline, hypnosis and common sense gathered through life experience.