When someone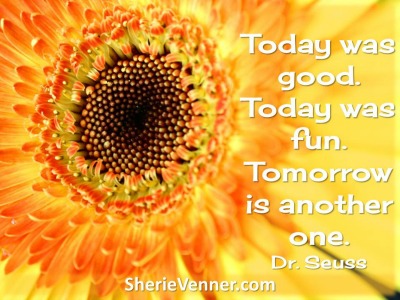 comes to me and complains that they are feeling dragged out, tired and depressed, one of the questions I ask them is this.
Are you getting enough vitamin F?
Hmmm. Vitamin F? Yep. Fun.
Why Aren't You Having Enough Fun?
I can hear you now…
I'm too busy.
I have so many things to do.
I have meals to cook.
The kids and my spouse need me to _________.
I have work.
I have chores.
The dog needs to be walked.
I have too many responsibilities…and the list goes on…
Right. That's life. And it's shorter than we would like to think. So, where are you scheduling the fun in your life?
Because if you don't make room for that fun, all the "have to's" will take over. And then, you won't have any fun.
When you don't have that joy in your life, it's like all the color is taken out of your world. You need to have that enjoyment and it doesn't need to cost a lot of money.
If you think that having fun is costly, then I have to say that you need to broaden your definition of having it.
Yes, we all like to go to concerts, see the latest movies, enjoy a fancy restaurant. But if it's not in the budget, does that mean that you can't have any fun?
Upping the Fun Quotient in Your Life
I love to dance. That's how I met my fabulous husband. I went to a dance and there he was. He might be embarrassed that I am telling you this but…for our first dance, he played the air guitar for me.
Yes, it is a bit corny. But I got to see this side to him…a fun side. And it opened my eyes to that part of his personality…and it was good.
Smiles are cheap. Looking for the fun in everyday things is cheap too.
When was the last time that you playfully tapped your spouse/partner on the rear with a tea towel when you were doing the dishes together in the kitchen?
Do you grab your partner and dance in the living room when your favorite song comes on the radio?
What about walking in the rain…holding hands…and laughing when the skies pour down on you…and you have to find shelter in the nearest bus stop shelter?
Find ways to find fun in the ordinary…make your life a little more full of the spark that makes your heart sing. Fill up on vitamin F…
It doesn't always have to be the grand gesture, although those are awesome and have their place. Make fun and happiness a priority in your relationship.
This Pop Quiz
So…take a look at your life…and answer this quiz:
"Am I having enough fun in my life?"
"What can I do differently so that I can have more vitamin F?"
"Have I smiled enough, today?"
"Have I loved enough, today?"
And then…tell me how you scored…
"Drive your own life…you deserve to, don't you?"  Sherie Venner
The following two tabs change content below.
Sherie
I am a Relationship Coach who helps others create happy, healthy, loving relationships…including the relationship they have with themselves…by breaking through those blocks and barriers to success. I use various techniques gathered through training as a Master Practitioner of NLP, timeline, hypnosis and common sense gathered through life experience.