We all have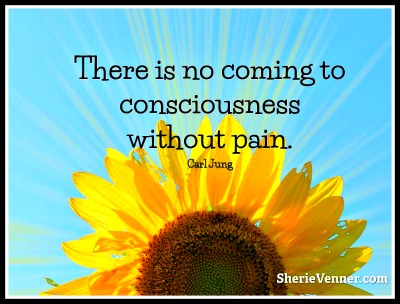 to deal with emotional pain because we live. No one is immune. Happiness is wonderful but none of us are in a state of 100% happy, all of the time.
Let's talk about Mary…she's a friend of yours…and you see her putting up with a lot of crap in her life…and you can't understand why. She is in a lot of pain, emotionally. She comes over for coffee and tells you how bad things are and she doesn't seem to move past it. Her relationships with partners don't work and her relationship with herself doesn't work . Her money doesn't work either and she has been drinking way too much lately. And she is in pain.
You want to help but you can't really. You can listen…but really, Mary is the one who has the power to make the change…for the better…
Some people get used to having that kind of pain…it's a companion…and in fact, it becomes the new normal for them. They never go to a place where they say "That's enough, I'm done…I deserve better…I deserve some happiness".
Until they get to that point of threshold where they draw a line in the sand or reach the last straw…and that's a good place to be…because that is where a person can make a change…and move forward.
So what do you do when you find yourself knee deep in emotional pain and you've had enough of it? You didn't seek it but there it is…in all of its mess and nastiness and you want a solution.
Now, just a little warning. This process is for emotional pain, not trauma. So if you are dealing with a trauma, this isn't what you want to do. I've said it once and I'll say it again. If you have trauma issues, you have to have help. Don't go it alone.
5 Simple Steps for Overcoming that Emotional Pain
Name the feeling.
Claim the feeling. Own it. It's yours anyway.
Feel it. Really feeeeeeellllll it. Take those barriers down, they don't protect you anyway. Stop numbing with overeating, with overspending, with too much sex and sex with the wrong people, with too much television or exercise….all of those avoidance tactics don't really work…that is just an illusion.
Let it go. Now, that might seem very simplistic…but the beauty of actually letting yourself feel is that once you do…and you've listened to the message behind the feeling…it doesn't need to stick around…it just leaves…
Focus on what you can do…to fix whatever issue brought that feeling up…and then take action to make it so.
So here is the process…broken down.
Find a quiet place where you can be alone with your thoughts. You know, I find that for most people, if the feeling arises when you are at work or with other people, and you can't go to a quiet place, a bathroom works very well.
Take a deep breath…and let the oxygen flow through your body. Take another…and exhale…slowly…and relax….and relax even more….just let the relaxation flow…from the top of your head to the tips of your toes….
Ask yourself "Where is that feeling?" Notice it…where is it in your body? Does it have a size, a shape, a color? Just look…and see what you see…that's your feeling….
Give the feeling a name…is it anger, jealousy, sadness, loneliness, fear? There are many names…give that feeling a name…
Now that the feeling has a name…ask it a question…that's right…ask it a question. "(

Name of emotional pain

) , what do I need to know right now to let you go?". Listen for the answer and when a thought pops into your head, see what that message is.
Look at the area where that feeling of emotional pain was…is it still there? If it is, has the shape or the color or size changed? If it's gone, yay! If it's not, repeat the question…and listen for that answer…because pain is always a messenger…you can also see the shape change and the color and size change and see if it that helps that emotional pain just go away….try shifting the location…just a little bit…You can repeat the process until that feeling has gone away.
Act on the message that you have been given. If you don't, the emotional pain will come back…because that is its purpose…to let you know that something isn't right. It will come back until you deal with whatever the issue is. Focus on creating the future that you want.
And that simple process for dealing with emotional pain does work…if you work it…and allow those negative feelings to just drift away…
"Drive your own life…you deserve to, don't you?"  Sherie Venner
The following two tabs change content below.
Sherie
I am a Relationship Coach who helps others create happy, healthy, loving relationships…including the relationship they have with themselves…by breaking through those blocks and barriers to success. I use various techniques gathered through training as a Master Practitioner of NLP, timeline, hypnosis and common sense gathered through life experience.