It can happen to anyone…that feeling that you are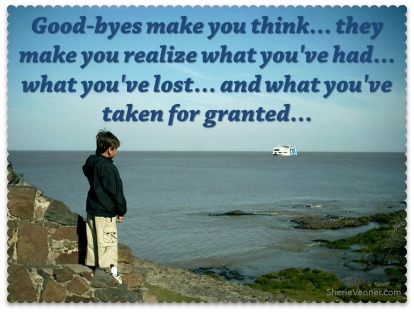 being taken for granted in your relationship. It can happen at the beginning, or the middle or somewhere in between…in new relationships and in relationships that have a few years in them.
Being taken for granted can happen in relationships with parents, with children, with spouses/partners, with friends and with people that we work with.
Here are some of the warning signs that relate mostly to a spouse/partner relationship but I am sure that you can see that similar patterns can happen in those other kinds of relationships.
The 7 Warning Signs of Being Taken For Granted

Never saying please or thank you or smiling at you
Not responding to you when you speak
Expecting you to pick up after them (clothes, dishes, etc.). You feel like the maid.
No matter how much you do, it's not enough…or appreciated…it's just expected…
There is a feeling, a very pervasive feeling, that you are being ignored or neglected
Never taking the time to sit down and just talk with you, because you are important
Not making birthdays or anniversaries special occasions (that doesn't mean spending a fortune…unless you happen to be very prosperous…lol)
That feeling of being taken for granted is a very painful feeling…it hurts…and we have probably had an experience or two in our lives of some instance when we felt that way…when you are in a significant relationship and it feels that the other person is taking you for granted…it hurts how you feel about yourself.
Most human beings have an absolute and infinite capacity for taking things for granted-Aldous Huxley Tweet This!
Your self-esteem is affected and then it becomes a vicious cycle. As you feel worse about yourself, the other person seems to neglect you more…and so on…and in a way…that neglect is a form of abuse…emotional abuse…if it goes on long enough. It doesn't mean that you need to be catered to or that if you are needy, the other person should always be at your beck and call…no…being taken for granted is deeper than that…
It's when you have started out on a solid footing, have had great communication, and then…over time (sometimes not much time…)…the other person starts to have expectations of what you bring to the relationship…and it is more than they do…it is the inequality that is the problem.
Breaking Free of Being Taken for Granted
It all starts with you, doesn't it? If you find yourself in that situation, here is what you can do:
Write out a list of the things you appreciate about your partner and invite them to do the same about you. This will open a door of communication and you will see where they are coming from. Often, it is a matter of life getting in the way (bills, work, health issues, kids, parents, etc.)…but you won't know unless you talk about it…
This list will start the ball rolling…and the next thing that I am going to tell you might surprise you…and it might not…
You, on some level and for some reason, have accepted that behavior from your partner…and you have allowed them to take you for granted. So, start treating yourself as if you are important…because you are…take that time to do those things for yourself that you have been putting off… make time to develop yourself…take a class or read a book that will stretch your mind…
Make yourself a priority in your own life and others that you are in relationship with will start making you a priority too….we all have a need to feel significant in our lives and especially in our relationships…so if you do feel like you are being taken for granted…maybe it is time for a change…don't you think?
"Drive your own life…you deserve to, don't you?" Sherie Venner