You really don't need to be perfect to achieve your goals. It is a topic that I write about often…because it keeps needing to be said…sometimes one way will work for one person and sometimes another way…and then, one day…all of a sudden…a light dawns and they realize…that yes, there is no place for perfection in a goal setting plan.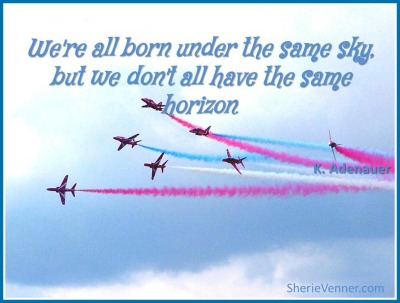 "We're all born under the same sky, but we don't all have the same horizon." ~Konrad Adenauer
What Does an Airplane Have to Do With Being Perfect?
I attended a seminar in 1992 with Dr. Tad James. One of the most amazing things that happened in that seminar was a metaphor…a story that he told us. He explained that if you took a flight from San Fransisco to Hawaii, with the goal being arriving in Hawaii safely,  that the airplane would be off course 70% to 99% of the time. Huh?
Yes, that seems to be a huge difference, doesn't it. So, how does that happen? The plane gets hit and buffeted around by tail winds, head winds, storm fronts, heavy cloud cover and many, many more things…weather can be fickle. So, in order for the plane to reach Hawaii (or whatever its destination is), there needs to be many course corrections.
This would be true, even if the plane was on automatic pilot. Can you see how this can apply to your life? There are constant corrections that you need to make, some on a daily, some on a weekly, some on a monthly basis…just like that little plane going to Hawaii.
Be Willing to Be a Flexible Goals Setter Instead of a Perfect One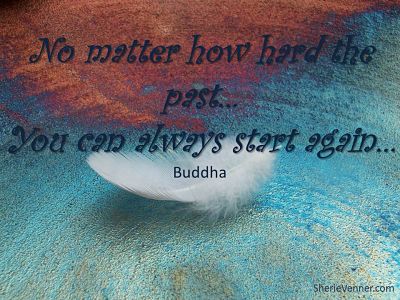 "No matter how hard the past…be willing to start again…" Buddha

Perhaps you are like me…we can get hit with really hard things…and still we keep going. I was faced with a divorce that wasn't in my life plans. It was a big course correction and I had to change my goals. Other people have deaths that they need to cope with. Others have course corrections that might not seem big to others but are big to them.
The important thing to remember is that even if you do need to start over again, you can do it. Yes, it might be hard. In fact, it might be excruciatingly hard…and yet, you can do it…have faith in yourself and your ability to bounce back.
Remember that plane that is off course for most of the time. It keeps on going. Can you imagine what it would sound like in the cockpit if the pilot threw up his hands and started screaming every time the plane needed to be corrected?
The Secret to Letting the Idea of Perfect Go
When you have defined your goals, you have actually defined the obstacles that you will need to overcome. There is no waving of a magic wand to achieve goals. You actually need to do work towards them. You need to define them, have them be realistic and SMART goals. And then:
Expect that it will be imperfect.
Expect that there will be times nothing will go right.
Expect that there will be hard times.
Expect that you can handle whatever comes along (yes, you might need help and it is okay to ask for it).
Expect to do course corrections.
And then, when you get to that goal, you will be pleasantly surprised that it might even have been easier than you thought…
"Drive your own life…you deserve to, don't you?"  Sherie Venner