If you feel like you don't deserve, it can apply to many areas of your life. Many people feel that they don't deserve love…or they don't deserve money or financial freedom…or they don't deserve to have a healthy fit body…it all depends…some people feel that they don't deserve in one area of their life…others feel that way in many areas of their life.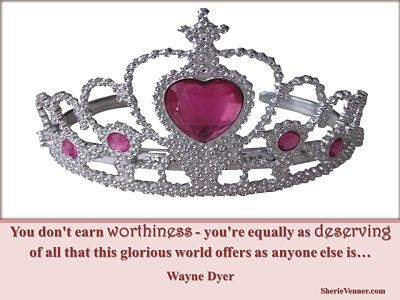 You don't earn worthiness – you're equally as deserving of all that this glorious world offers as anyone else is ~ Wayne Dyer
What Happens When You Believe "I don't deserve"
It affects so many things in your life and some of them are your ability:
To be loved
To be fit and fabulous
To have financial freedom
To have the life you really do want
To create magnificent relationships
Your life would look a lot different wouldn't it, if you believed "I deserve…"?
This belief of "I don't deserve" goes hand in hand with the belief "I am not worthy." The first question that I ask a client who has one or both of these beliefs is "Who told you that?" Quite often, there will be one instance, at a young age when that happened. In other instances, it will be a series of life events, such as a bad relationship that was traumatic or abusive, that led the person to believe that.
A negative or low self esteem is often a result of those beliefs…and when your self esteem is strong, you feel confident in your ability to move forward in your life and to allow yourself to have that love, that fitness, that fabulousness, those relationships…that life…
Let Go of "I Don't Deserve" and Rebuild Your Self Esteem
Some people are massively critical of themselves…I am sure that you're not like that…but there are some people who are…and it is SO difficult for them to take that negative inner voice and tell it to shut up…and sometimes, that is exactly what you need to do…tell that negative, bitching, complaining, whining voice in your head to JUST SHUT UP…or turn the dial on it and make the volume so low that you can't hear it…
…and when you have done that…we are going to give credit…where credit is due…sit down with a pen/pencil and paper and draw a line down the centre of that piece of paper. At the top on the left hand side, label it My Strengths…and on the right hand side, label if My Weaknesses.
Then fill it out…be as specific as you can. When you are done, if you are like most people, you will find that the side labeled weaknesses will be full. The side labelled strengths will be smaller. Tear that piece of paper in half, down the centre line that you have drawn. That's right…
Take a good look at the half that is labelled My Weaknesses and see if they really are…they might not be… for example, if you said that you are compulsively tidy, I want you to cross that out and rewrite it on the other half as "extremely organized". If you can find a way to rephrase…or reframe how you have been seeing your weaknesses, do it…if you can't…that's fine.
Once you have gone through all of those descriptions and transferred the reframed ones to the Strengths list…take a good look…those traits that you criticize in yourself have value to other people…
Focus on what is right with you. Focus on those strengths. Realize that your skills and strengths have value. You have value. You deserve.
There Was a Time…
Let's imagine a parent…someone who is looking down on the face of their new born child for the first time…imagine what that would look like and feel like…that immense feeling of joy and overwhelming love…looking into those eyes…and cradling that infant in your arms for the first time…and many, many parents see that child as being perfect…in that moment…don't they?
Does that small infant need to earn love? No. Absolutely not. The love of that parent is freely given…in that moment…right there…
So find a picture of yourself when you were a baby…a small tiny infant…all trusting and full of that love…and look at it…and tell me…what does that baby deserve?Doesn't that baby deserve to have the very best that life can offer…love…happiness…bliss…joy…all of it…and the answer is yes…yes, you do…
"Drive your own life…you deserve to, don't you?" Sherie Venner