Have you been plagued by relationship anxiety? Has it been a factor in your life because of your own anxiety or because of the anxiety of a partner?
Nerves and butterflies are fine – they're a physical sign that you're mentally ready and eager.  You have to get the butterflies to fly in formation, that's the trick.  ~Steve Bull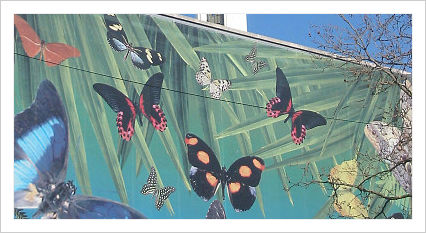 Symptoms of Relationship Anxiety
Here is how you can tell if anxiety is a problem for you in social situations, relationships or even work related areas. You do not need to be in a romantic relationship with someone in order to have relationship anxiety. Everything is relationship.
Are you suspicious of another person's behavior? Do you  make up stories in your mind about what they are thinking or doing when you are not around?

Are you overly needy when you are in a relationship? Do you need constant reassurance that the other person/job/friend will always be around? Do they need to prove their allegiance to you, over and over again?

Are you impulsive? Have you heard the story about the young woman who broke into her lover's girlfriends house in order to see if they were both there, cheating on her? Yes, that is definitely impulsive behavior.

Are you bothered by mood swings? You feel up and then down with no predictor of which mood will come over you in a social , work, or relationship situation?

Are you an over analyzer of the relationship? Do you try and read meaning into every little word or thing?
All of these symptoms can be mild or can escalate until they make how you function in your life difficult. Some people only feel anxiety when they are in a romantic relationship. Some people feel anxious in their work related roles. Others feel anxiety when they are at different social gatherings with friends and loved ones.
What Lies Beneath Relationship Anxiety
The root cause of anxiety is fear and what is fear? Fear is False Evidence Appearing Real….that's right…unless you are being pursued by a bear in the woods or another event where fear is appropriate. 
Fear of an event that has not happened yet is fear that you create in your mind with your imagination. You imagine that the event will turn out badly…and so, I must ask you this…"Why would you imagine a future that is less than you want?"
Think about that for a moment. Why would you? Perhaps…and this is just an idea…you have made it a habit to do so…it has become part of your automatic operating system. The grooves in your brain, the patterns that years of negative beliefs have created, are there. They are a well worn path that your mind likes to travel and so it is easy to fall into that pattern.
Steps to Feeling More Confident and Avoiding Relationship Anxiety
Use that wonderfully creative imagination of yours to visualize a happy future, one filled with ease.
Create an anchor that you can trigger when you feel distressed and full of anxiety. Click here for more instructions on that.
Set small goals for yourself, baby step goals, in your relationships and then celebrate their success. If you have anxiety over calling someone up on the phone, set a small goal to find the phone number. That is a baby step. Another baby step after that is to put the number into your cell phone as a contact…and so on, until you work up to actually being able to call.
If there is a specific event that you are creating anxiety about, imagine the event being over and that it is fifteen minutes after and you tell yourself "That worked out well"…it really helps (it works great if you are taking a test, too!).
Relationship anxiety does not need to be permanent. It can be overcome, really…and the important question is this one and worth repeating…" Why would you imagine a future that is less than you want?"…it is that simple…maybe not easy in the beginning but it will be soon…because you can use that brilliant brain of yours to imagine something different…can't you?
"Drive your own life…you deserve to, don't you?"  Sherie Venner