We all know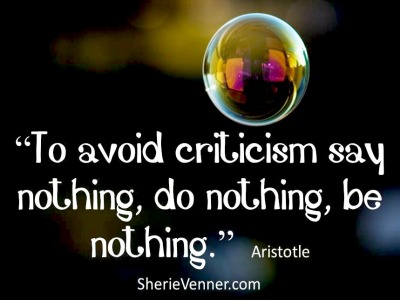 that criticism hurts…a lot…for most people.
Yet, for others, it isn't a big deal…at all. And that might seem strange…and yet…it's not.
There are those people who say that criticism is good for us…that we learn from constructive criticism.
Don't we love to read critiques and reviews about movies, books, plays, and shows? In a way, gossip is criticism…it is making a judgment on the actions of other people.
And judgments hurt.
When we stand in judgement and criticize…we do so without all the facts…because we don't know what lies in the mind of the other…
Criticism Hurts So Much Because of This
The real reason criticism hurts is because we believe that it's true. Think about that for just a moment…and you might see what I mean…
Imagine this. There is a young girl with blonde hair. She is very proud of that blonde hair, brushes it for 100 strokes every night…she looks at herself in the mirror and smiles when she sees that hair.
Then one day, she goes to school. The children there start to make fun of her and say that her hair is black and it should be a different color. They begin to criticize the color of her hair. Now, she isn't stupid.
She knows…beyond a shadow of a doubt… that she has blonde hair. She has been told by her parents that her hair is blonde. Her siblings tell her that is the color…and so did people in authority…her teachers, her grandparents…the media show pictures of people with hair her color…and they have called it blonde…
So she knows that the words that they speak aren't true…she doesn't question the color of her hair…because she knows…deep down inside…that she knows what color her hair is…
"I have yet to find the man, however exalted his station, who did not do better work and put forth greater effort under a spirit of approval than under a spirit of criticism." Charles Schwab
If You Believe the Criticism is True
If you have been criticized…then you believe…on some level…that the criticism is true.
Now…let's be clear here…that doesn't mean that I agree with people being critical…and I have doubts that there is constructive criticism…because when we feel that we are being criticized…we often become defensive. When you are on the defensive, you don't learn well.
There is an old saying "If children live with criticism, they learn to condemn." Dorothy Law Nolte. I believe that is true.
"How much easier it is to be critical than to be correct." Benjamin Disraeli
Dealing With Criticism
Ask yourself these questions:
Am I really being criticized? When we are too sensitive…because we have dealt with so much criticism in the past…we can mind read and think that a suggestion is a criticism when it's not…it's like there is a hair trigger response that feels like everything is a criticism…so look at your responses…do you feel like everything is a criticism?
Is there any truth to this? If there is…then you need to deal with the issue…if there isn't…then don't accept the criticism as being true…then it becomes the other person's issue…
If I took a step back…would that change my perspective here? It often does…change perspective…when you take a mental step back and look at the big picture.
What would be a constructive solution here? If you are a criticizer yourself…think of reframing that…and offer constructive solutions after you have listened…and understood.
A Simple Exercise
Imagine what this situation would look like through the eyes of another person…someone that you admire…a mentor…someone who is alive or someone who lived in the past.
Mentors and coaches can help us see things through a different perspective. There is an exercise that I use and you might like that. I imagine that I bring a problem or a criticism to a group of mentors…in my imagination…
That group consists of people that I admire…who have done great works…and I imagine that I discuss that problem with them…and then I listen for an answer…
This is a powerful exercise…because what it really does is tap into that intuition…those gut feelings that know what is right…
"To avoid criticism say nothing, do nothing, be nothing."― Aristotle
In our lives, we can't avoid all criticism…we can only choose how we react to it…
The real truth about criticism is that it only hurts because you believe that it is true. So your choices are to make a change if it is true…or let it go if it isn't…and change that belief that you have…because it's not serving you…is it?
And do you know what that little girl would do to deal with the criticism of the color of her hair? She would laugh…because she would know…beyond a shadow of a doubt that it wasn't true…and you can do that too…
How have you dealt with criticism in your life? Have you been successful…or not? Let me know in the comment section below…
"Drive your own life…you deserve to, don't you?" Sherie Venner