Have you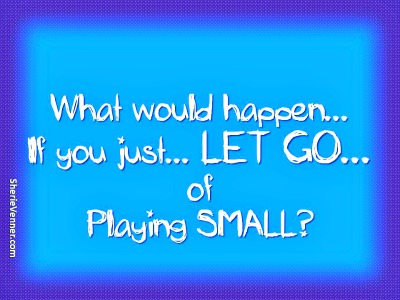 thought about why you might be playing small?
Why you don't take that chance…that opportunity that might just get you what you have said you have wanted…for a long time.
There might be many reasons…and it might look like this…
Let's imagine a young man…he has tons of potential…graduated at the top of his class in school (college)…and yet…he has a job as a local package delivery firm, that is well known. In the area where he lives, the economy is good, so it's not a factor.
There are very many jobs in his particular field in the area where he lives…and yet…he took the first job that caught his eye. He has the ability to do a job that pays more, that he would enjoy more. Being a driver for this delivery service is an honorable job but it isn't his dream job.
So why would he do that?
These Reasons Why You Might Choose Playing Small 
Fear of rejection. For many people, they don't go for the brass ring because they are afraid that at some point in time, they might be rejected. Rejection is painful. It is easier to keep our dreams out in front of us…at arm's length…and think about what "might be"…than it is to go for it and be rejected.
Indecision. He might have not been able to make a decision to go for what he wanted. When you fail to make a decision, it is a decision…because the default result clicks in…
Lack of confidence. Even if he was successful in school, he might be telling himself that a job in his field is a different story. He might have a lack of confidence because of limiting beliefs…he isn't good enough…he doesn't deserve…it could be anything, couldn't it?
Fear of commitment. This is real. Yes, you have heard of people who have a fear of commitment in relationships. This particular fear can be extended to career commitment, school commitment, writing a book commitment…and many more.
Inability to deal with stress. Many people stay stuck in careers and relationships that don't work for them because they can't deal with the stress of leaving…of starting over…of making a change…
"There is no passion to be found playing small – in settling for a life that is less than the one you are capable of living." Nelson Mandela
Simple Steps to Avoid Playing Small
Take a look at where you are and be honest with yourself about why you have been avoiding doing what you want.
This isn't a matter of whether you should or ought to be doing it. If there is something that you truly want…a dream…and you have been avoiding doing those things that you know you need to do in order to make headway…there is a reason.
If it is fear of rejection, do this:
Ask yourself, "Who do I fear will reject me?" and listen for that answer.
Then ask this "What would happen if I was rejected?"
Take these steps to rebuild your confidence.
Underneath all of these, there is usually ONE limiting belief…discover it…and let it go…
Make a decision…a real
decision
…to move forward. Once you have that…commitment will help you when you hit those inevitable bumps in that road…and with commitment, comes confidence.
When all of those are in place…then…just like a baby learning to walk…those wobbly first steps get easier…and soon you can run…because…when you are avoiding, you are actively doing something…you are actually not standing still…you are moving away from your dream. Think about that…if you are telling yourself that you want that dream and you are actively moving away from that dream, what does that say?
"Your playing small does not serve the world. There is nothing enlightened about shrinking so that other people won't feel insecure around you. We are all meant to shine, as children do." Marianne Williamson
Give yourself permission to succeed…to let go of playing small…break free of that prison that you have yourself in…that bubble of protection that isn't protecting you…burst forth from that…and fulfill your destiny as a loving, kind, generous person who is going after that dream…yes, that one…just because you can…
"Life is too short to wake up with regrets.

So love the people who treat you right.

Forget about those who don't.

Believe everything happens for a reason.

If you get a chance, take it. If it changes your life, let it.

Nobody said life would be easy, they just promised it would most likely be worth it."  

Harvey MacKay
That's right…
"Drive your own life…you deserve to, don't you?"  Sherie Venner