I hear this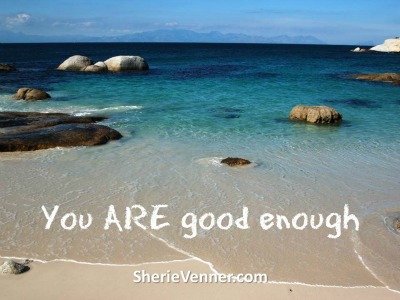 belief too many times.
It is the most common one that both male and female clients bring to me.
"I am not good enough". It can manifest in so many ways…
When You Believe that You are not Good Enough
Your relationships are fragile
Your boundaries are weak
Your dreams are just out of reach
You feel powerless to make the changes you want
Perhaps, for some people there are moments when they feel successful even if they have this limiting belief. Often, though, it is fleeting…because here is the thing…if you really believed that you were  good enough…would you get in your own way…and perhaps sabotage your life…unconsciously…
Because for my clients…when they have that belief of not being good enough…the pattern has been this:
They work hard and do all the "right" things.
They are happy for a while, feeling like they are succeeding.
Chaos steps in and their life (in this area) begins to unravel.
And the cycle repeats itself. ..because they can't really be successful long term.
"And it's easy to believe you are not good enough if you listen to everybody else." Mackenzie Astin
What Does Believing You are not Good Enough Look Like?
Let's talk about an imaginary client. His name is Jim. He decides that it is time in his life to have an amazing relationship. He sets out all of his requirements on a vision board…does positive affirmations…visualizes daily…and lo and behold…in a short matter of time…there she is…the answer to his dreams.
Macy and Jim are happy and they date for a while. After they fall in love, they decide to get engaged and start to plan a wedding. Now…here…it all begins to unravel…they begin to fight…their individual needs stop being met…
Boundaries get weaker. Jim begins to compromise too much. Macy becomes more demanding, day after day. There is a lot of being taken for granted. They start to fight…each one wanting the other to bend…there is a power struggle…and finally…
One day, it all comes to a head…the conflict is too much…it is too intense…and one of them decides to call the whole thing off…
Now…on paper, it looked good. They loved each other; they had so much in common…they were headed for wedded bliss. But underneath it all, there was that nasty limiting belief "I am not good enough" and what it did was cause one or the other of them to behave in ways that would push the other partner away.
When there is that limiting belief, there is an underlying current…then…when they least expect it… it jumps up and overwhelms…. Not all relationships end because there is that limiting belief. However, the ones that don't end with that limiting belief living in the head of one or both of the relationship partners…can be painful…can be hurtful…
So, I tell my clients to let that limiting belief go…we work on the origin of it…find the root cause and pull it out…because no one needs to believe that…do they?
Everyone is good enough…just because we are…just being in existence on this planet makes us good enough. Realize your wonderfulness…you were meant to be here…there is no one like you…anywhere…revel in the magnificence of who you are…just catch a glimpse…and know that you really are good enough…you always were…you just needed a reminder…tune into it…and here it is…
"Drive your own life…you deserve to, don't you?" Sherie Venner