Even though I have had really good luck with this gluten free pie crust recipe, I have another pastry recipe that I really like. The advantage of this gluten free pie crust is that it sticks together really well. The pastry is easy to roll out and when you transfer it from being rolled out to the pie plate…well, it stays together! For those of you who have tried making pie crust before, you know that is quite the accomplishment. : D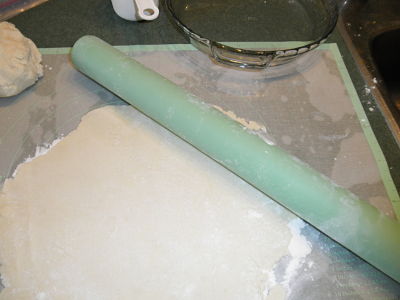 Flaky Gluten Free Pie Crust Recipe
5 1/2 cups of gluten free all purpose mix  (this works the best!)
(alternatively, you can use 3 1/2 cups of sweet rice flour, 1  1/2 cups of white rice or brown rice flour, and 1/2 cup of potato starch)
1/2 tsp. salt
1/2 tsp xanthan gum
1 lb. of butter (or you can use a mix of shortening, lard, butter, coconut oil)
4 extra large eggs
1/2 cup of cold, ice water
In a large bowl of a food processor or kitchen mixer, put either the gluten free all purpose mix or the combination of  sweet rice flour, white rice or brown rice flour and potato starch.
Add the salt (this is optional if you are watching your salt intake) and the xanthan gum. If you would like, you can substitute guar gum. It is essential for the staying power of the gluten free pie crust to have this, though. I have tried it without and it was a bit of a disaster. : D
When the flours, salt and gums have been mixed, use your steel cutting blade or cookie whips to mix in the 1 pound of butter. Here, you only want to mix until the butter is pea sized. If you are using a hand pastry cutter, the same standard applies. Don't over mix with the food processor or the kitchen mixer. Do it a bit at a time until you have the consistency that you need.
In a medium sized bowl, crack 4 extra large eggs. Add the 1/2 cup of ice cold water and mix thoroughly with a fork or hand beater. With the mixer or food processor turned on, gradually add the liquid mix until the pastry comes together.
Divide the pastry ball into 4 smaller, even balls. You might even be able to squeeze 5 out of this recipe, giving you enough pastry for 2 double crusted gluten free pies and a single pie. Or you could have enough for 5 single crusted gluten free pies.
Lightly dust parchment paper or a silicone sheet with a generous amount of sweet rice flour. Gently pat down the pastry. Dust a rolling pin (I really like a silicone pin for using on gluten free pastry, it makes a big difference) with the sweet rice flour.
Roll out, using your pie plate bottom as a reference for the size that you will need. Lay your rolling pin over the center of the gluten free pie crust and using a spatula, gently lift it over. Using the rolling pin covered with the pastry, gently transfer it to the pie plate.
Voila! There you have a remarkably easy gluten free pie crust that rolls out well and freezes too!
The Finished Gluten Free Pie Crust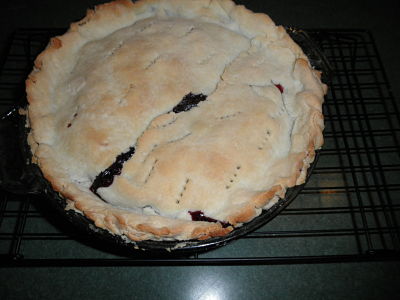 This is what the finished product looks like! A gluten free blueberry pie!
P.S. Tip: Roll out your pastry to about 2/3 the size you think you will need and then put in an extra large ziploc freezer bag. If you freeze this, supported by a large dinner plate, it works well! Just take out and defrost at room temperature for no more than 45 minutes (because of the eggs in the recipe).
The following two tabs change content below.
Sherie
Sherie writes about relationships, relationship anxiety and eating gluten free. She has been gluten free for more than 10 years. Connect with Sherie on
Google+