One of my favorite recipes is this one from my Mom that I have adapted to be gluten free. This gluten free meat pie is easily made as individual serving pies, like the one that is shown above or as a family style 9 inch pie. The day that I made these gluten free pies, I did both by doubling the following recipe!
The small pies freeze very well and make a quick and easy meal for taking to work. I used a large muffin pan to make these pies. You could use the small muffin tins and make more (twice as many, actually), since my large muffin pans hold double the batter of the small muffin tins.
West County Gluten Free Meat Pie Recipe
The recipe that follows is for one large 9 inch gluten free pie or 6 large muffin pan sized individual meat pies. It can also be made into 12 regular muffin sized individual gluten free meat pies. It's your choice!
Gluten Free Pastry Recipe
You can use this one or you can use another. I used this one for the recipe and one of the things that I really like about it, is that it does roll out well.
2 1/4 cups of all purpose gluten free mix
1/2 tsp of gluten free baking powder
1 cup of butter and or coconut oil
1/2 tsp of xanthan gum
1/2 tsp sugar
1/2 tsp salt
Mix the dry ingredients in a bowl until well combined. If you use coconut oil, butter, or a mix of both, be aware that extra virgin coconut oil will have a coconutty taste. If you want to use virgin coconut oil for pastry, it will have less of a taste to it. If your room is warm, your coconut oil will not be solid. It needs to be solid in order for the pastry to work. I have had great results with using just butter, just coconut oil, or a combination of both.
Cut the butter/coconut oil into the dry mix until the mixture looks like small crumbs, about the size of small peas. Don't blend too much!
In a small bowl, whisk one egg, 1 tbsp of apple cider vinegar and 9 tbsp of ice water. You will use approximately 1/2 to 3/4 of this mixture.
Add the liquid to the dry ingredients, slowly mixing it together until the pastry forms a ball. Don't use too much liquid, the pastry should hold together, not be too dry or too wet.
Roll out on a piece of parchment paper or my favorite, a silicone rolling sheet, dusted with sweet rice flour or more of the all purpose mix. This is enough for a double crust pie or 12-24 tarts.
Meat Pie Mix
1 raw carrot grated
2 medium raw potatoes grated
1/2 medium onion grated
2 cups chopped or ground cooked meat (leftover roast works well, or in this case, cooked lean ground hamburger, about 1 pound)
1 tsp gluten free Worcestershire sauce
3/4 cup of leftover gluten free gravy (or cook 3/4 cup of water, 1 gluten free bouillion cube and approximately 1 tbsp of arrowroot or sweet rice flour together until thickened)
1/4 tsp salt (you can increase or decrease this)
1/4 tsp pepper
I used a food processor to grate the onions, carrot and potato…quick and easy! Put that in a bowl. Add your spices, gluten free gravy, cooked and drained lean hamburger or leftover chopped roast, Worcestershire sauce (yes,you can buy it gluten free, check out your health food store!). Mix well.
Roll out your bottom crust and put in a 9 inch pie plate (or modify if doing the smaller pies). Put the meat mix on top of the bottom crust. Roll out your top crust and make sure to prick it with a fork or knife, to let steam escape.
Bake in a hot preheated 425 F oven 15 min. Reduce temperature to 350 degrees F and continue baking 20 to 25 minutes longer until crust is golden brown. You can serve this hot with or without gravy. : D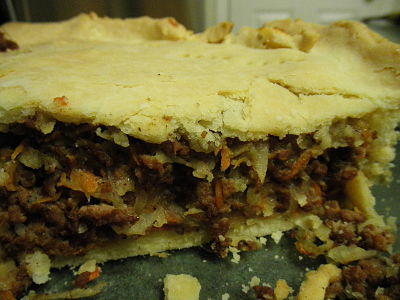 What is your biggest challenge in going gluten free?
The following two tabs change content below.
Sherie
Sherie writes about relationships, relationship anxiety and eating gluten free. She has been gluten free for more than 10 years. Connect with Sherie on
Google+