There are many gluten free all purpose mixes available on the market. There are many gluten free all purpose mix recipes that are available on the internet and books. I found this one, many years ago, from Bette Hagman in her book "The Gluten Free Gourmet", (not an aff link), published by Henry Holt and Co. LLC. This is my adaptation of it!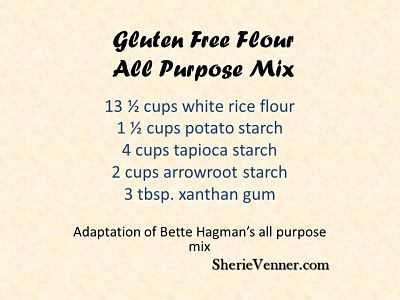 Why Make your own Gluten Free All Purpose Mix?
…because you can! The advantage of taking a basic recipe like this is the ability to change it, if you need to. For example, in the original recipe, it called for cornstarch. In our family, we have multiple food allergies and among them is corn. Corn is a very common allergen. While searching around for a substitute for the cornstarch, I found that the arrowroot starch (or flour as it is sometimes called) works really well!
As well, if you want to change the nutritional value of the mix, you can experiment and try substituting brown rice flour, white sorghum, millet or others for a part of the white rice flour. However, if you want a direct replacement for wheat flour in cake recipes, pancakes, waffles,muffins, quick breads, this is an excellent mix. You will need a different mix for gluten free breads.
Making your own gluten free all purpose mix is also more convenient and more economical. If you run out and have the basics on hand, you can make more. That in itself has saved me a lot of grief over the years! There is nothing more frustrating than running out of flour and realizing that the store you need to get it from is closed until tomorrow.
Putting the Gluten Free All Purpose Mix Together
I have a large plastic container that I use with a tight fitting lid. For ease and because I can be lazy sometimes, I put the ingredients in and fasten the lid tightly, then shake, hard!
Measure and put into a large container:
13 1/2 cups of regular white rice flour
1 1/2 cups of potato starch
4 cups of tapioca starch
4 1/2 cups sweet rice (or glutinous flour, although there is NO gluten in it) flour
2 cups of arrowroot flour (or cornstarch if you have no issues with corn)
3 tbsp. xanthan gum (this works better than guar gum)
This makes enough flour for the average family of four to bake to their hearts content for up to a month. It stores well in an airtight container in a dark place in your cupboard or pantry. Please remember, that if you substitute any of the whole grain gluten free flours for any part of this mix, you need to store it in the refrigerator or freezer to prevent rancidity.
Tell me…what is the biggest challenge you face in being gluten free?
The following two tabs change content below.
Sherie
Sherie writes about relationships, relationship anxiety and eating gluten free. She has been gluten free for more than 10 years. Connect with Sherie on
Google+