When I was a child growing up, I was blessed to have a mom who loved to bake! One recipe that was a favorite of mine and of my dad, was date squares or bars. I missed them a lot when I first went gluten free and tried to make gluten free date squares with a number of different grain flake combinations. I tried amaranth flakes, rice flakes and quinoa flakes.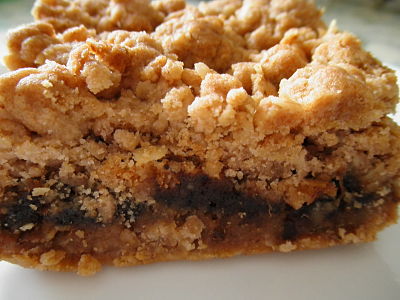 They all made a passable gluten free date square but something was missing. Then, to my delight, along came Only Oats with their gluten free oat offerings.  I was sold!! So here is my version of gluten free date squares made all that much better with the addition of real oats (gluten free, of course).
Golden Brown Gluten Free Date Squares
Date Filling Ingredients
1 pound of dates, cut up (use kitchen shears or scissors, it is quicker!), to make 3 cups of chopped dates
1 1/2 cups of cold water
1/4 cup of white sugar
Make the filling first by putting the cut up dates, cold water, and white sugar in a heavy sauce pan. Cook over medium heat, stirring, until the date mixture thickens. That will take approximately 10 minutes. Remember to stir the whole time, you don't want scorched dates! Take the pan off of the heat and let the date mixture cool.
Gluten Free Date Square Crust Recipe
1 cup of brown sugar
3/4 cup of butter (or you can use coconut oil or a combo of butter and coconut oil…for this recipe, I prefer butter, it makes it golden!)
1 3/4 cups of gluten free all purpose mix
1 tsp salt
1/2 tsp baking soda
1/4 tsp cinnamon (you can omit this but it gives it a little bit of a kick!)
1 1/2 cups of Only Oats quick cooking gluten free oats (or another brand of certified gluten free oats–this is critical, make sure they are certified gluten free)
Putting it all together!

Preheat your oven to 400 degrees Fahrenheit.
In a large bowl, mix the brown sugar and butter until blended. You can use your hands, a mixer, or an old fashioned pastry cutter. In a separate bowl, mix the dry ingredients, the gluten free all purpose mix, salt, baking soda and gluten free oats.Combine until "crumbly".  
Set aside half of the mixture. You will use this for the delicious topping! Pat half of the mixture into a greased 13 by 9 inch pan. I usually use a metal baking pan but glass works well, too!  Just make sure that you grease it well with either butter or coconut oil (or shortening, if you prefer). Top the patted down mixture with the cooled cooked dates.
Top that with the reserved crust mixture, lightly patting it down (not too much though, you still want the crumb effect). Bake in the preheated oven for about 25 to 30 minutes, until golden brown. This makes about 36 squares, if you cut them small. Cut while warm, it makes it easier! These freeze well, if you stack with parchment paper or waxed paper between layers!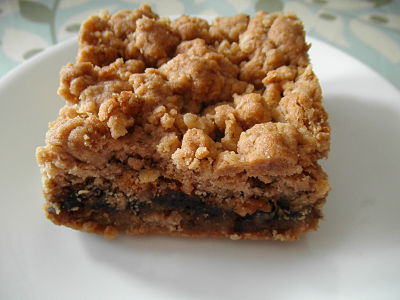 My family loves these gluten free date squares and my friends can't tell that it is gluten free!
P.S. Not everyone who needs to eat gluten free can eat gluten free oats. Please use your judgement wisely! My family does well with them!
The following two tabs change content below.
Sherie
Sherie writes about relationships, relationship anxiety and eating gluten free. She has been gluten free for more than 10 years. Connect with Sherie on
Google+