These are the most amazing, soft, little gluten free cookies. They are just like little muffin buttons, cookies with a soft, cake like texture. Who said that gluten free baking had to be anything other than delicious??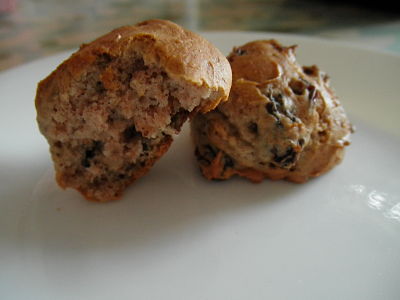 Say goodbye to dry, crumbly cookies and say hello to these incredible gluten free muffin like cookies! This is my daughter Amber's recipe and I had the pleasure of coming home to the wonderful aroma of apple and cinnamon baking in the oven. What a treat!!
Gluten Free Apple Raisin Spice Cookies Recipe
by Amber Chipman
1/2 cup of raisins
1 1/2 cups of gluten free all purpose flour mix
1 tsp baking soda
1 tsp cinnamon
1/4 tsp salt
1/4 tsp xanthan gum
1/8 tsp ground cloves
1/3 cup of softened butter (you could substitute some of this with coconut oil)
2/3 cup of medium brown sugar
1 large egg
1/2 cup of unsweetened applesauce
1/2 tsp vanilla extract
1/2 cup of pecans, chopped
Preheat your oven to 375 degrees Fahrenheit. Either grease two 13 x9 baking pans with shortening or line with parchment paper. I am a huge fan of parchment paper…things don't stick and when you are done, you just throw the used paper away!
In a small bowl, put the raisins and cover with 1/4 cup of boiling water. Let the raisins stand in the boiling water for 10 minutes, until softened. Drain the raisins and reserve 1 tbsp of the liquid.
In a large bowl or stand mixer, cream together the softened butter (or combination of butter and coconut oil) until well blended. Gradually add the brown sugar. * If you prefer a cookie that isn't as sweet, this recipe works very well with a reduced sugar volume of 1/2 cup of brown sugar. It depends on what you like…either way, you get a subtle sweetness with the unsweetened applesauce.
In a separate bowl, mix the gluten free all purpose mix, baking soda, cinnamon, cloves, salt, xanthan gum and cloves. Add the large egg to the creamed butter and sugar mixture. Then fold in the unsweetened applesauce and vanilla extract. Gradually stir in the dry ingredients until everything is well combined. Add the drained raisins, reserved tablespoon of soaking liquid and the chopped pecans. Stir well.
Using a small scoop or a large spoon, drop the gluten free cookie batter onto the greased or parchment lined pans. If you like the look of a fluffy mound of cookie, leave as is. If you want to dip a fork into more gluten free all purpose mix and press down the cookie, you can. I prefer the look of a mound!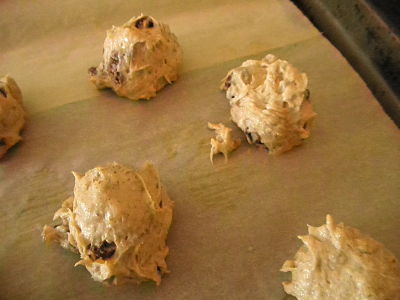 Bake in the preheated 375 degree Fahrenheit oven for 8 to 10 minutes. When golden brown and baked, they will have a springy feel to them. If done, remove from the oven and cool on cookie racks.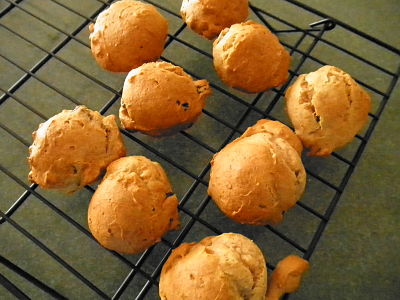 These wonderful gluten free cookies taste so good and with the addition of applesauce, raisins and nuts, they are a nutritious option for dessert or snacks! I hope you enjoy them! Thanks, Amber, for making them and letting us share the recipe!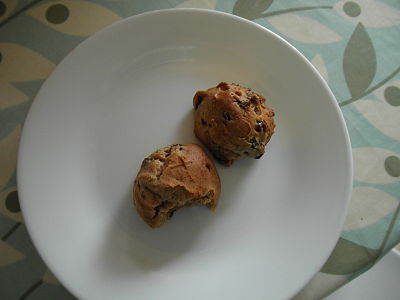 Sherie
Sherie is a Relationship and Breakthrough coach who has been gluten free for more than 10 years. Connect with Sherie on
Google+
Related posts: