What's for supper tonight? We had a delicious gluten free roast 3 days ago. Since then it has been sitting in my fridge with no takers! No one wanted to make hot roast beef sandwiches or have a meat pie. So I decided to take matters into my own hands and use the leftover roast as a stir fry. It worked really well! There isn't any left, that is for sure!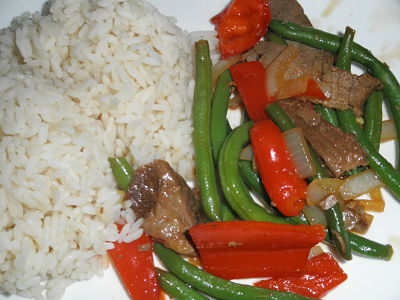 Gluten Free Beef Stir Fry Recipe
2 tsp of sesame oil (you can use a different oil with a high heating point if you prefer)
1/2 of a large white onion, chopped
2 red peppers, chopped
1 1/2 cups of green beans (I used frozen ones), cut or whole
1/3-1/2 cups of SanJ gluten free teriyaki sauce (start out with the small amount and adjust as necessary… I prefer the lesser amount because I am not a big sauce fan!)
1 1/2 cups (approximately) of leftover roast, cut into strips
*Please note that if you don't have any leftover meat, that you can substitute 1/2 to 1 pound of raw meat, like beef or chicken cut into strips.
Preheat a large frying pan or wok. If you are using raw meat, add the oil and cook the meat first, stirring until well done. Remove from the frying pan and cover, while cooking the rest of the ingredients.
If using the leftover roast (and yes, it does work well), preheat the oil in the wok.
Add the onion , red peppers and green beans. Stir fry for 2 to 3 minutes. Then add the gluten free Teriyaki sauce, which should be available at a wide variety of health food stores that carry gluten free foods.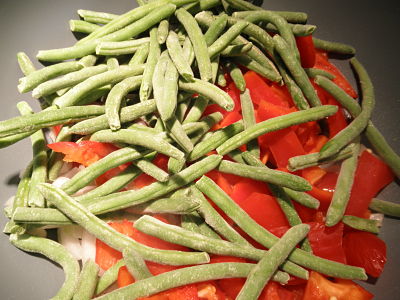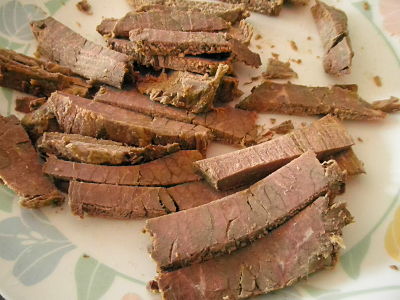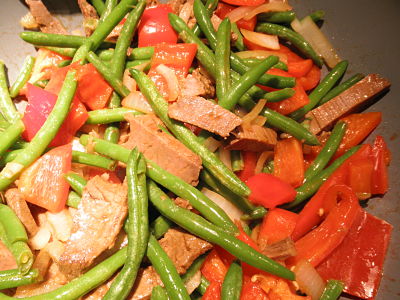 These vegetables could also be any other combination of vegetables, such as mushrooms, bean sprouts, celery, snow peas. It is all up to you! Frozen Asian vegetable mixes work well, too, and are very convenient to keep in your freezer.
Add the cooked meat and stir fry until the vegetables are crisp tender. My family likes them that way…just a bit on the crunchy side! If you prefer, you can cook them a bit longer, it just depends on what your family would like, doesn't it?
I am a fan of using up leftovers in a way that people don't recognize them as the meal you had 3 nights ago. When you can take the meat and throw it into a stir fry like this, it is healthy, convenient, and most of all quick. I like to have meal ideas on hand that I can throw together quickly on busy days.T
This meal can be served with rice. The rice that my family likes is Uncle Ben's converted rice but brown rice is a close second in our house. Because it can be difficult to eat out when you are eating gluten free, you will have the satisfaction of a gluten free stir fry without worrying about the risks of cross contamination, because you are the one in charge of meal prep!
Yummy gluten free goodness!!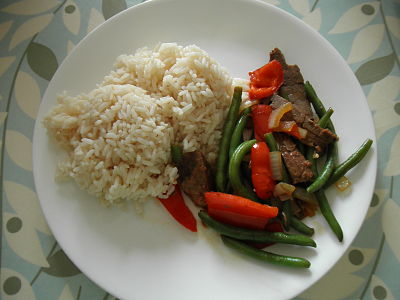 The following two tabs change content below.
Sherie
Sherie writes about relationships, relationship anxiety and eating gluten free. She has been gluten free for more than 10 years. Connect with Sherie on
Google+