Do you love a great piece of music, one that makes your heart sing? When the musicians in a band or orchestra are in harmony with each other, it is pure magic, each piece intertwines with each, weaving a tapestry. If there is discord, with one instrument not in sync, it is jarring. Relationships can be harmonious, if you develop rapport.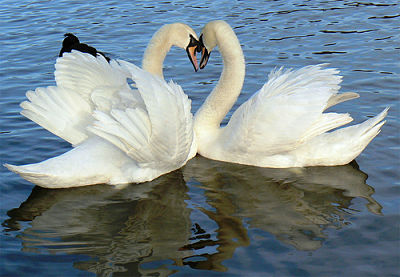 Photo by mozzercork
What is rapport?
In order to communicate effectively in any relationship, there needs to be rapport. Rapport is the ability to relate to some one in such a way that there is a deep understanding.
You might notice that you feel closest to your partner for example when you are in sync, or simpatico. When couples are in deep rapport, they quite often finish each other's sentences. When you are in harmony,it is beautiful, when you have discord, it is miserable.
Have ever seen a couple deeply in love, strolling on the beach, hand in hand? Notice that their stride matches, their heads are tilted at the same angle and they are completely in sync with the rhythm of their movements and tone of voice. That is deep rapport.
People like people who are like themselves
Even though you might not be consciously aware of it, you like people who are like you. Can I hear you protesting that you have diverse people in your life? What do I mean by "like you"?
belief systems that are similar
core values in common

language patterns

hobbies/interests

thought patterns

common history

physical traits and mannerisms
Take stock of your closest friends and family. When you take a deeper look, you will see that the people you are most comfortable with, do have a lot in common with you. It isn't just the superficial, like where you live, it's the deeper stuff that is important.
Building Rapport in your Relationship
Here is one simple and easy way to build more rapport into your relationships. If you have a partner, this will deepen the love connection that you have with each other. If you use these rapport building techniques with friends and relatives, your connection will be strengthened as well.
If the person you want to be in more rapport with speaks in a "visual" manner like this:
"I can SEE CLEARLY what you are saying", you can match and mirror by using similar "visual" words and reply, "It LOOKS to me that you are right", or something similar.
For an "auditory" person who says, for example, "I HEAR what you are saying", you can reply "It SOUNDS good to me" or "That RINGS A BELL".
A "kinesthetic" person might say "I FEEL that way too". Your reply appropriately could be "I CATCH YOUR DRIFT", or you could say "I've got a HANDLE on it", depending on the context! Speaking the SAME representational system (visual, auditory, kinesthetic) language, even briefly, can help to cement bonds.
Quality in Relationships
When we have rapport, we feel connected. We feel that we can trust the other person. There is deep understanding. When there is deep understanding , whether the relationship is romantic, child/parent, friend, or colleague, you feel loved and appreciated.
Quality relationships take time. There are many other ways to develop rapport. You can match and mirror body language, tone of voice, mannerisms, speed of speech, as well. I caution you, that if you do practice rapport with another person, that you not overtly "mimic" them. Rapport is subtle.
Building rapport is a process that comes naturally and you might not even be aware of how often you really are in sync in your relationships. The next time that you find yourself standing with a friend and you both cross your arms at the same time, realize that you are in rapport.
If you would like some more phrases that illustrate visual, auditory, and kinesthetic, here are some more examples.
The following two tabs change content below.
Sherie
I am a Relationship Coach who helps others create happy, healthy, loving relationships…including the relationship they have with themselves…by breaking through those blocks and barriers to success. I use various techniques gathered through training as a Master Practitioner of NLP, timeline, hypnosis and common sense gathered through life experience.