There are 3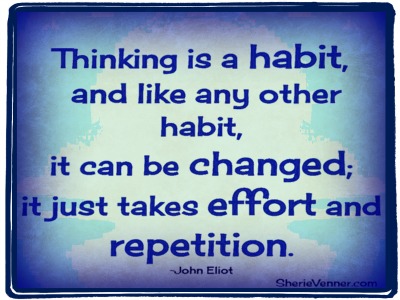 ways of thinking…that keep people stuck…that keep people from having the lives, the careers, the love and the success that they want.
They are common ways of thinking and they aren't necessary and can be changed…in fact, should be unloaded right now.
"Thinking is a habit, and like any other habit, it can be changed; it just takes effort and repetition".~ John Eliot
The Way We Think
The way we think influences our lives. Agreed? Those ways of thinking can be old patterns and habits leftover from when we were kids. Or they could be new patterns that we developed as we grew and had different experiences.
When we think, we think in pictures, sounds, feelings and sometimes, in smells and tastes. If the way you think works for you…and gives you what you want in life…and you feel a great amount of harmony, peace and love…well, then, I would say that the way you think works very well for you (even though I would just be guessing…).
However, if you can imagine this scenario…let's pretend that there is a woman named Amanda. Amanda works hard at her job and often stays past her work hours to make sure that everything gets done and set up for the next day.
She is a hard worker who goes above and beyond, often putting in unpaid time after work on her own time, to do research for work projects. In her position, she is allowed to bank hours. In fact, she is allowed to take days from her vacation accrual if she needs them. So, there is a long weekend coming up.
Amanda asks for and gets approval to take an extra day off on the long weekend so that she can have a four day weekend.(Who loves a 4 day long weekend?). She has made sure that she has prepared for and has all the bases covered for that extra day at work. All systems are go.
Amanda begins to feel a nagging feeling, like something isn't right. She starts looking for permission…for someone to say that it's okay that she has arranged to take this day off. Remember…the day has been cleared, she is making sure all her i's are dotted and t's are crossed in her office…she actually has the right to take the day off…and isn't going to hurt anyone…
Unload These Ways of Thinking
Needing Permission. There is a subtle difference between needing permission to do something and needing approval to do it. When a person looks for permission, there could be an underlying feeling of not deserving…so they are looking for permission from an outside authority (a parent, a spouse, a supervisor)…to do the thing they want to do.
Feeling Guilty. Guilt is a waste of your time. If you have done something wrong (and I'm not talking about MAJOR things here like severely hurting someone physically or robbing a bank), take responsibility for it, make it right if you can, and move on. Don't do it again! Guilt keeps you stuck in the past and it serves no use for most people, other than to keep you stuck.
Speaking to Yourself Critically. Perfectionists are experts at speaking to themselves critically. It doesn't work. It just makes you feel bad about yourself and the last time I checked, that really doesn't get you the results you want, long term.
A New Way of Thinking
"A thought-form held in thinking substance is a reality; it is a real thing, whether it has yet become visible to mortal eye or not."~ Wallace D. Wattles
Our thoughts are real…and they help shape our reality…and because they do that…we must be aware of our way of thinking. The possibility exists within each one of us to change those ways of thinking.
Take responsibility for every decision that you make. When you feel that you are at 100% responsibility, then those ineffective ways of thinking…that need for permission…that guilt…and speaking to yourself critically…can all melt away…
You need your permission. If you aren't sure that you are going in the right direction, make a list of the pros and cons. For example, Amanda can make a list of the pros of taking the extra day and the cons for taking the extra day.
Then she can take a look at that list and see if she needs to make an adjustment. Then she can take responsibility for making that decision…because when it comes down to it…when you can accept total responsibility…you don't need anyone else's permission, do you?
Toss guilt out of the window. Using guilt is like using a hammer to brush snow off of a car windshield….you can do a lot of long term damage that way…
Speak kindly to yourself…remember that it is true that you can catch more flies with honey than with vinegar…especially when it comes to your relationship with you….
So, when you take 100% responsibility for your actions…and that is really just a decision…then you will start to feel that you deserve what you want in life…you can unload those 3 ways of thinking that don't work anyway…let go of thinking you needed permission…let go of the guilt…let go of the criticism…just because you can…just like that…
"Drive your own life…you deserve to, don't you?"  Sherie Venner 
The following two tabs change content below.
Sherie
I am a Relationship Coach who helps others create happy, healthy, loving relationships…including the relationship they have with themselves…by breaking through those blocks and barriers to success. I use various techniques gathered through training as a Master Practitioner of NLP, timeline, hypnosis and common sense gathered through life experience.