Yes, it is possible to create your ideal relationship. What if you don't have a current partner? Don't worry; these steps will help you to clarify what you want so that you can create an ideal relationship. What if you are already in a relationship that is not ideal? As long as there are no deal breakers in your relationship, these steps will definitely help you!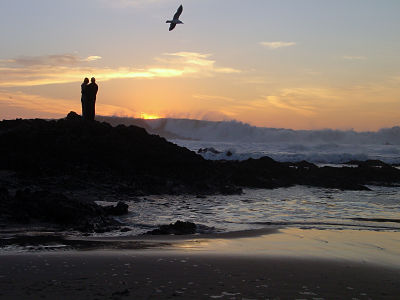 Step 1: Know What you Really Want in an Ideal Relationship
Ha! It can't be that easy can it? Well, it's not. Sometimes, what we think we want is not what we actually want. If you could take a look at your current relationship, if you are in one, and your two past previous relationships, what would you see?
Take a pen and paper out and list the similarities between your present relationship and the past two. If you are currently single, do the same with your past relationships (at least two, preferably three). Can you see any patterns that are similar between them?
Have you been creating the same type of partner, over and over again? That is what I did, in the past. One of the techniques that worked really well for me was to sit down and write a fake personal ad. In that ad, I listed all of the qualities of the people that I had been attracting in my life. It wasn't pretty.
When I saw all those negatives, I was prompted to turn around and reframe the qualities. I wrote an ad about the opposite qualities. It was much better and in the end, that is what I went on to bring into my life. When you do this exercise, you see that you are attracting what you believe you deserve. Sometimes, "your type" and what you think you wanted, are not for your higher good.
Step 2: Clear Out Your Negative Beliefs about Relationships
You know the ones I mean. "All men are scum" or for the guys "All women cheat", or any statement that starts with "All". Ask yourself this: "Is that true?". Really. Take a good look at that. "Is that true? Do ALL men (women) __________". This question that you ask can be a life changer and for some people, that is all that is needed.
List the other negative beliefs that you have about relationships. I am a fan of sitcoms as well. This week, Jess on New Girl, met a new guy and he didn't fit the profile she held in her mind about guys that she would be interested in. He was rich, kind and caring and she was used to guys who were less than that, underdogs she called them. It was difficult for her to even consider going out with him. We'll see what happens.
Catch what you say about your exes. That will reveal a lot about how you feel about relationships.
Step 3: Letting Go of Old Less than Ideal Relationships
Do you still talk about your ex a lot? Do you stalk their Facebook page? Chances are, you haven't moved on as much as you thought you had. Yes, they can be a part of your past. It is important though that you remember that they are your EX. It is done, over with…so put it in the past where it belongs and focus on creating a new fabulous relationship.
We all learn something in our relationships…feel gratitude for what you learned, for the lessons that came from being with that person, even if that is difficult to do. When you can feel gratitude for some little thing that you learned, it makes it easier to let it go…now…
Continue on to Part 2 and the final 2 critical steps to creating an ideal relationship….you'll want to catch this!
"Drive your own life…you deserve to, don't you?" Sherie Venner
The following two tabs change content below.
Sherie
I am a Relationship Coach who helps others create happy, healthy, loving relationships…including the relationship they have with themselves…by breaking through those blocks and barriers to success. I use various techniques gathered through training as a Master Practitioner of NLP, timeline, hypnosis and common sense gathered through life experience.