We all like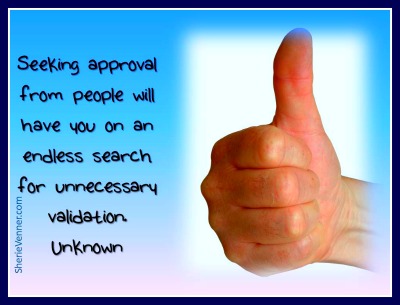 a thumbs up…it's nice to know that people appreciate something you've done…
However, if you find yourself needing that approval…or desperately seeking approval…or being a people pleaser and being more concerned with what they think of you…that is a problem.
That becomes an empty feeling…because the approval of others never will fill that void in your life, will it?
"Seeking approval from people will have you on an endless search for unnecessary validation." Unknown
When you spend so much of your energy seeking approval from others or being a people pleaser, there is a tendency to do things that you might not otherwise have done. You say "Yes" when you really wanted to say "No".
You may make agreements that aren't always in your best interests. All because you look for validation outside of yourself…instead of inside…
Looking for Approval in all the Wrong Places
Parents
Partners
Friends
Children
Teachers
Colleagues
Whose approval do you really need? Your own. That's right…
Does that mean that you can just go out and do whatever you want without a thought to what is in the best interests of others? No.
Looking for approval or being a people pleaser is something different…it is feeling that you are less than…that in order to feel good about yourself or your actions, you need to hear it from someone else…someone else has to say "Good job" or "You're wonderful" because you surely don't hear it from yourself…
And when that need for approval interferes with your life…when you have to have that outside approval…that feeling that people are pleased with you…your life doesn't work as well as it could…because, after all, it is your life…and it doesn't matter what others think…your approval is all that is needed. You need to be pleased with how your own life is turning out…don't you?
Evaluate Those Life Areas Where You Seek Approval
Ask yourself these questions:
How is it working for me?
What is missing?
What works?
What doesn't work?
Is there anything that I want to change?
What needs to happen in order for me to feel that area of my life is fulfilling?
And answer these questions based on what YOU want…not on any ideas you might have that by doing things THAT way…that you will have the approval of someone else…because in the long run…no one cares as much about how you live your life as you do…and that is really the way it should be. Because we need to mind our own lives…our own business…just because it is ours…
And think about it…
Letting Go of the Need to Please
It is actually a little easier than it seems. It is all a decision…a decision that can happen in an instant…if you choose it that way…just a switch from thinking about what others want you to do…and is that real, anyway? How do you know what they want you to do? A lot of it is just in our imaginations…which is great…because there, it is easy to make changes…because it is just your imagination…isn't it?
Knowing your core values and knowing what you want in your life are steps to letting go of the need for approval and the need to be a people pleaser. Knowing that you are good enough is, too…and you can know that…because you already are…good enough…and since you already are good enough, then you don't need the approval of others, do you?
Then you can be pleased about how your own life is turning out…because you created it the way you wanted it to be…
"Drive your own life…you deserve to, don't you?" Sherie Venner
The following two tabs change content below.
Sherie
I am a Relationship Coach who helps others create happy, healthy, loving relationships…including the relationship they have with themselves…by breaking through those blocks and barriers to success. I use various techniques gathered through training as a Master Practitioner of NLP, timeline, hypnosis and common sense gathered through life experience.