Assumptions can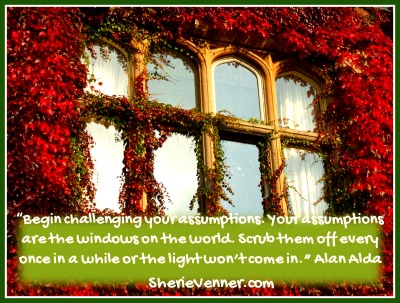 be relationship killers. I have heard that it is women who end most relationships.
Quite often, the men feel like they have been blindsided.
Even though, in many cases, the women have pointed out the difficulty in the relationship, more than once, and said that they weren't happy, there were assumptions made by their partner.
They assumed that everything was okay, even when the evidence pointed to the contrary.
"Begin challenging your assumptions. Your assumptions are the windows on the world. Scrub them off every once in a while or the light won't come in." Alan Alda
Why We Make Assumptions
Consider this…we are assaulted by so much information today. We suffer from information overload.
In ancient times we had to be hyper aware of what was going on around us, so that we stayed safe and didn't die…well, we had to filter out information that we didn't consider to be important so that we could focus on the critical information…like whether a saber toothed tiger was bearing down on us…
Today, even if we aren't in immediate danger, we still filter out information. If we have the belief that the relationship we are in is forever, and our partner is complaining because their needs aren't being met, we might not see it.
We might be focused on other things…like making sure we get ahead at work…or planning a new place to live…so, even though a partner might cry…plead…present a very convincing case…they might not be listened to…because of the presence of an assumption mindset.
Stepping out of an Assumption Mindset
When you become aware that it is normal for people to make assumptions…just because that is the way we are hard wired…then if there is something you need to discuss with your partner, then you need to be very clear about what you want or need.
Give your partner advanced warning that you need to talk with them.
Make sure that you are in a place/time where you can talk with your partner, uninterrupted.
Ask questions. See if your partner has any of the same concerns that you do. After all, you might have made assumptions, too…in fact, it is quite likely that you have.
Listen. Ask more questions. Keep your emotions out of the picture. Think of yourself as being on a fact finding mission, like a detective…that will help. : D
Understand that you are partners in communication, as well as partners in a romantic relationship.
Challenging Your Own Assumptions
I assume that the sun will come up tomorrow. That helps me to get moving and get on with my life. I assume that everyone I love will be safe. These are good assumptions because they help me.
If I had the assumption that the world would end tomorrow,  it wouldn't help me. It would hurt me. It would hurt the people that I love because my behavior would be very, very unresourceful…if I assumed that…wouldn't it?
We can be blind to our own assumptions…because they are such a part of our identity, that we don't always see them. Other people can though. So keep your mind open when talking to your partner.
There may be assumptions that you need to challenge, deep inside yourself. Take a look at your own behavior, whether you are in partnership with someone else or you are single.
What are your assumptions about life…about yourself…about the people in your life…about money…about careers…and ask yourself this…"Is that true?" and listen for the answer.
If you're not sure…then ask more questions…do research…and remember, when you are learning…you are growing…and when you are growing…you are getting better and better in every way…aren't you?
"Drive your own life…you deserve to, don't you?" Sherie Venner
The following two tabs change content below.
Sherie
I am a Relationship Coach who helps others create happy, healthy, loving relationships…including the relationship they have with themselves…by breaking through those blocks and barriers to success. I use various techniques gathered through training as a Master Practitioner of NLP, timeline, hypnosis and common sense gathered through life experience.