Anger scares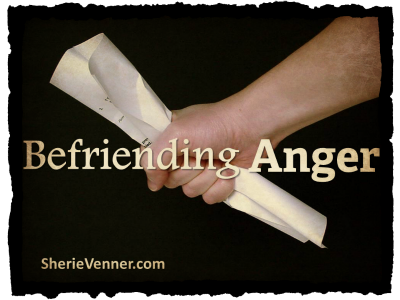 us. That is normal.
As a small child, I can remember shaking in my boots when my Dad got angry. There is nothing scarier to a kid than a 6 foot tall adult man yelling at them.
Anger makes us afraid that we are out of control. I have heard depression explained as anger turned inward…and from what I have seen, I believe that is at least partly true.
When we don't feel safe to express anger, it is so simple to become angry at ourselves…and then become depressed.
Is Anger Ever a Good Thing?
Yes. It can be. That is not license to commit violence. Anger is an emotion. Violence is an act. Being angry does not have to be equivalent to committing a violent act.
Anger is never an excuse for that. Never.
Anybody can become angry – that is easy, but to be angry with the right person and to the right degree and at the right time and for the right purpose, and in the right way – that is not within everybody's power and is not easy.
Aristotle
Anger has its place in our bag of emotions. It is a natural human emotion. An emotion is a feeling in motion. So, yes, there are moments when anger is appropriate and is a good thing.
Anger at social injustice is a good thing.
Anger at bullying is a good thing.
Anger at senseless acts of crime is a good thing.
Anger in a person who is depressed is a good thing.
These are self explanatory…these reasons…except for possibly the anger that occurs in a person who has been depressed.
When a depressed person becomes angry at their situation, then they gain some power. They gain the energy of the emotion…the feeling in motion…so, it becomes possible to move from that stuck state of depression.
An Anger Push: A Tale of Moving Forward
Depression is a stuck state, like being mired in the mud. Let me be clear here. I am referring to depression that is situational…that is based in the way a person thinks…not clinical depression that is caused by a chemical imbalance.
So…imagine it like this…there is a tractor…a big green, John Deere tractor and it is stuck…up to its big, black sturdy tires in the deep, dark, wet mud. It has been sitting there idling…and the wheels spin ever y time it is put into gear and the farmer tries to drive it forward.
Then…a friend comes along…and puts his shoulder to the wheel and gives that tractor a little nudge…and it boots out of the mud and onto the pasture…where the grass is green and there is a well laid out track.
The tractor is free because of the extra push…that little bit of momentum that got it out of that terrible, dark place. And anger can be that little push…that little extra piece that gives that situational depression the heave ho…so that the person who is suffering from that stuck state can get moving…
And you know that physics law…the one that says that an object in motion stays in motion? Well, it's just like that…
So, yes, there are times when anger is a good thing…times when it is totally appropriate to be angry…and again, let me restate…NOT to be violent…so own all of your emotions…and when you feel that anger coming up…use it to move you forward…use the energy of the anger to get you moving…to get you past what you need to get past….that's right…
"Drive your own life…you deserve to, don't you?" Sherie Venner
The following two tabs change content below.
Sherie
I am a Relationship Coach who helps others create happy, healthy, loving relationships…including the relationship they have with themselves…by breaking through those blocks and barriers to success. I use various techniques gathered through training as a Master Practitioner of NLP, timeline, hypnosis and common sense gathered through life experience.