Have you found yourself in a group of people or with family and felt an overwhelming sense of loneliness? Most people think that they can be lonely only when they are alone. That's not true…you can feel lonely anytime, anywhere, with anyone…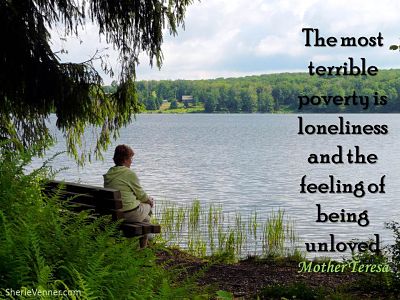 "The most terrible poverty is loneliness and the feeling of being unloved" ~ Mother Teresa of Calcutta
Loneliness is Different than Being Alone
We all know people who are alone…who are vibrant, energetic and quite enjoy their aloneness. On the other hand, there are other people…perhaps you know someone like this or maybe it is you…I don't know…that person can feel lonely even when they are in a crowd…they feel disconnected and it's almost like walking through life…invisible…do you know what I mean?
It is normal to feel lonely when someone that you love leaves, whether it is for a business trip or perhaps, permanently. The other type of loneliness is very pervasive and underlying. It can have at its root many things, including:
Depression
Anxiety
Low self esteem
Fear
Phobias
Etc.
Loneliness is a feeling…a feeling of being disconnected, of aloneness…like you don't belong any where…feelings of isolation…some people will say that it feels like being an alien on the planet earth…that is how disconnected it can be…
For some people, that state of loneliness can pass quickly but for others, it stays around and can become stuck if you don't move through that feeling quickly…and that is the problem…the stuckness of that state…because feeling that loneliness for too long can really hurt and be damaging and lead to even more disconnectedness with yourself and with ourselves.
As people, we all need to feel connected, don't we….to feel that we are important and that we matter to someone…it's just human nature….
Breaking the Vicious Cycle of Loneliness
It can become a vicious cycle…you feel that loneliness and as a result of that negative self talk in your mind…and that inner critic…you stop doing the things that bring you into contact with others…so you stay home…gaming…watching TV…eating…smoking…drinking…or whatever it is that you might do…in order to isolate yourself even more.
In this day and age of social media and networking, it is an illusion that if you have 593 friends on Facebook and Twitter, that you are really connected. I love being on those social media sites but for some people (not everyone)…that can make them feel even more isolated. That might sound counter intuitive but it can. There is no substitute for live human interaction. Really.
We are all human beings who need to see into the eyes of the people we are talking with, to read the body language of another while they are speaking to us…so many miscommunications can happen if we only see the words…and don't hear the intonation, the look on another person's face as they are speaking to us…
So, if you are relying mostly on Facebook or another social media site (and by the way, I love Facebook and other social media sites) if it is used correctly…as an addition to an already flourishing life of connection…connection with yourself and others…it can be a wonderful medium for sharing…as long as it is not the primary or only way of sharing…do you get my drift?
So there are many things that can be done to break that vicious cycle of loneliness and here are just a few:
Ask yourself this question: How am I feeling lonely? Be specific in how you answer this…because it is your first step in knowing. When you know where you are…you can change it…
Eliminate the negative self talk: If you believe that you are unworthy of being in relationships with people, then you will create anxiety and fear and phobias around the idea of being in relationship with others. That belief needs to go because otherwise, a person will tell themselves lies like this even when they are with other people "They really don't want to be here" "She doesn't really like me" "There must be something wrong with them if they are hanging around with me".
Build up your self esteem: Once you eliminate the negative self talk and the underlying beliefs….you need to replace it with something…something good and true…that you are worthy and that you do deserve…because you do, don't you?
Connect with yourself: This can be done in many ways and here are a few ideas…meditation…walking meditation (just going for a walk and connecting with nature is amazing)…prayer…visualization…allowing yourself to feel good…stopping any activities that are abusive to you…you know the ones that I mean…those addictions are abusive to you…you can let them go…somehow.
Talk to people in real life: If your beliefs and ideas of yourself have led you to scale back on your connections in real life, start slowly and build them back up. Do it slowly and gradually…baby steps work…do volunteer work for others less fortunate than you and yes, there are people less fortunate than you…if you put the focus on others, it is amazing on how quickly that feeling of loneliness can fade…just like that…without you even noticing…be of service…
Get help from a professional: If you can't deal with this yourself, get help…there is no shame in that…seriously…
Remember this…we are all important and we are all here for a reason…find that reason and you will connect to yourself in so many brilliant ways and loneliness will be just a thing of the past, a distant fading memory…shoved out of your life by all of the vibrancy and joy that you can handle…just like that.
"Drive your own life…you deserve to, don't you?" Sherie Venner
The following two tabs change content below.
Sherie
I am a Relationship Coach who helps others create happy, healthy, loving relationships…including the relationship they have with themselves…by breaking through those blocks and barriers to success. I use various techniques gathered through training as a Master Practitioner of NLP, timeline, hypnosis and common sense gathered through life experience.