As we approach Mothers Day, I think of one of my favorite quotes for Mothers Day that says it all for me…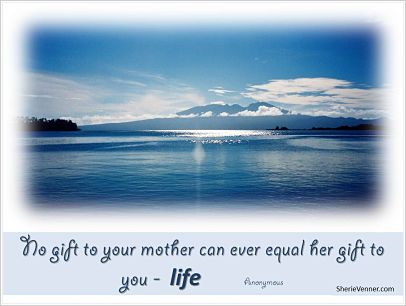 "No gift to your mother can ever equal her gift to you – life" ~ Anonymous 
Life…we all had a mother and some of us were blessed to be raised by the woman who gave birth to us. Others were blessed to be raised by other women who did not give birth to them. My mom was raised by my great grandmother, even though her mother was still alive. In Gran, who wouldn't have been here if she had caught her passage on the Titanic, my mom had the best mother.
Gran was someone who taught my mother how to love and how to show that love to her own children. I didn't realize how much my mother had loved us until I myself became a parent. You know…when you are a young woman, sometimes…you think you know everything.
Then…that first child comes along and you realize that you don't know everything and you need some help in raising that little one that has been entrusted to you. It was then, at the birth of my first daughter, Jennifer, that the full impact of how much my mother loved me became so apparent. That leads me to the second of my favorite quotes for Mothers Day.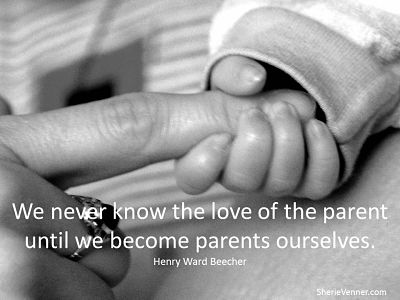 "We never know the love of the parent until we become parents ourselves." Henry Ward Beecher
It's Not About Being the Perfect Mother
It really isn't…because none of us are… the perfect mother is a modern myth that has been used to sell ideas, to sell stuff and the ultimate result is that a lot of mothers feel like they are failures. Yes, there are mothers who have made mistakes and some of those mistakes have been ones that no one recovered from.
The mothers that I am talking to today are those mothers who always feel that they are not good enough. The mothers who have to work two jobs to keep food on the table…the mothers who don't get any sleep because they have a newborn. …the mothers who know that they would sacrifice their lives if it meant saving their child.
What would happen if you weren't so hard on yourself? Do you think that if you cut yourself some slack and acknowledged the things that you do right in raising your children, that you might see yourself in a different light? And when you see yourself in a better light, you allow yourself to do better…it might not make sense but that is how it works…just try it and see…
Forgiving Yourself and Your Parents
So forgive yourself for the short comings that you think you have. If you are in the habit of being your own worst critic, stop…ask your children what they need from you. Are you giving them what they really need? Perhaps…when you sit down and evaluate what you are really doing, you can focus on your strengths…
Forgive your parents…they weren't perfect either…and this step will help you in your life as a mother. We are trying to do the best we can…and your parents were small children at one time…imagine them…young and being 3 years old and just needing to be loved…just like all of us wanted at that age…
So to all of those mothers we love and to all of those children who love their mothers, be you…love each other…because, in the end, that is all that really counts…isn't it? And Mom, thanks for the greatest gift of all…life!
"Drive your own life…you deserve to, don't you?"  Sherie Venner
The following two tabs change content below.
Sherie
I am a Relationship Coach who helps others create happy, healthy, loving relationships…including the relationship they have with themselves…by breaking through those blocks and barriers to success. I use various techniques gathered through training as a Master Practitioner of NLP, timeline, hypnosis and common sense gathered through life experience.